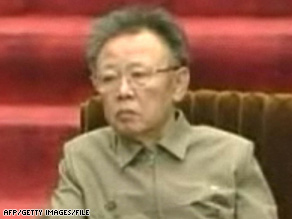 An image from North Korean television on April 9 shows leader Kim Jong Il in Pyongyang.
There's more tough talk between the U.S. and North Korea. The government in Pyongyang is threatening military action against U.S. and South Korean warships. While in Washington, Hillary Clinton warned North Korea of "consequences."
"It has ignored the international community, it has aggravated the obligations it entered into through the six party talks, and it continues to act in a provocative and belligerent manner toward its neighbors, " Clinton said.
Read more on CNN / Anderson Cooper 360°
SUBSCRIBE AND FOLLOW
Get top stories and blog posts emailed to me each day. Newsletters may offer personalized content or advertisements.
Learn more