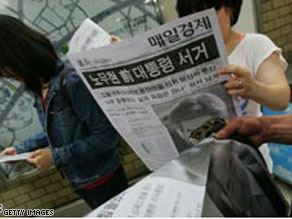 Despite a declaration of war from North Korea, many South Koreans seem unfazed.
Despite its declaration of war, North Korea is just not on the minds of many South Koreans.
People on the streets of Seoul have been calm, and going about business as usual. No sign of fear.
And overnight — at 4 A.M. — 200 South Korean soccer fans were fixated on a movie screen, watching a soccer match between Manchester United and Barcelona.
North Korea's threats were not keeping these South Koreans from cheering on the first Korean, in fact the
Read more on CNN / Anderson Cooper 360°
SUBSCRIBE AND FOLLOW
Get top stories and blog posts emailed to me each day. Newsletters may offer personalized content or advertisements.
Learn more