What's Your Reaction?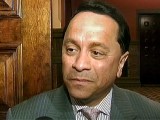 Scandal-ridden Senate Majority Leader Pedro Espada reportedly has supporters in one corner -- some of New York City's most powerful landlords, who appreciate his efforts to block or modify numerous rent regulation bills.
The...





New York City - United States Senate - United States - New York - Majority leader
Read the whole story: NBC NewYork
Get HuffPost New York On Twitter, Facebook, and Google Buzz!
Know something we don't? E-mail us at nytips@huffingtonpost.com