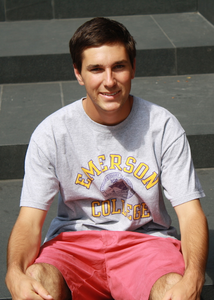 It was the first time ever that my classmates felt unsafe. The mood in the hallways was somber. However, my creation would transform the sense of doom into one of the most spirited moments I have yet to witness, and become a major accomplishment in my transition to adulthood.
The horror happened on a football field during homecoming, one of the biggest and most celebrated weeks of the year. Homecoming week brings the traditional powderpuff football game, when the junior girls play the senior girls in touch football. During the game, a fight broke out between two girls. Many kids have never seen two girls brutally fight. Later a video of the fight went viral, tarnishing our school's strong reputation.
I saw this moment as a time to make an impact with a project I created for the school. Earlier in the year, I founded Redwood TV, a station focusing on the life of the school which I shoot, edit, and produce every two weeks. I have always been one to look at inspirational videos to change my mood or pump me up before a sports game or any other challenge I face. I have studied videos made for professional sports teams with Interviews, time-lapses, and crowds cheering in excitement. I wanted to share the feeling of the videos that motivated me with my classmates.
While the community was engrossed in sorrow over the fight, I filmed all the lunchtime events featuring the Homecoming Kings and Queens. I put together a video of all of the best things that happened at homecoming, ignoring the fight that stole the attention of the week. The program aired Monday, and the students' attention left the fight and went to all the other activities that had been forgotten. In just those 4 minutes and 30 seconds, I changed everything.
Through my homecoming show, I saw what concentration and persistence could produce. The night before the homecoming highlights aired, I gathered together all the footage, making sure everything was perfect. As I put together the highlights that weekend, I pictured students smiling. I scanned through the newest music, deciding what mood I wanted to instill in the school that morning. I looked for something that puts smiles on people's faces, lifts school spirit and makes people enjoy Redwood High School. For this episode, I chose "Burn," by Ellie Goulding.
Throughout most of my first two years in high school, sports dominated my life. My family and friends labeled me as a tri-athlete. My principal thought I should stick to sports when I approached him with the idea of Redwood TV, telling me, "Redwood TV will end up being a waste of your time and the school's time."
I proved him wrong, and he is now one of the strongest supporters of the station, joking that he does not want me to graduate so the station can continue. After being spotlighted at a state leadership conference for the Oregon Association of Student Councils, Redwood TV is known as one of the best high school television stations in the country .
Redwood TV has grown into a must-see at my school, with students often asking me when the next episode is airing and sharing exciting things in their lives that they hope can be featured. Today, when I enter a school event with my camera, I am bombarded with students approaching me, hoping they will be featured in Monday's episode. Yet now I have a new mission: I am looking for a successor to train so the station can live beyond my graduation in June.
Jack Bushell is a freshman at Emerson College and a graduate of Redwood High School.
This Blogger's Books and Other Items from...
SUBSCRIBE TO & FOLLOW POLITICS
Get top stories and blog posts emailed to me each day. Newsletters may offer personalized content or advertisements. Learn more