Top 10 Travel Destinations For 2012 According To Facebook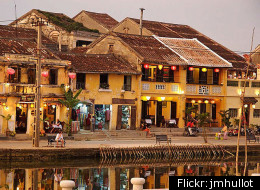 At Uptake, my colleagues and I have crawled Facebook's friend graph, analyzing the travel buzz in over 200 million comments, status updates, photo descriptions and check-ins from hundreds of thousands of people. We've whittled all this analysis down to create one ultimate list of top travel destinations you shouldn't miss in 2012. We hope that the list and pictures inspire your next great travel experience!
An interesting side note: The town of Farmville, Virginia was removed from our Top 10 List when we realized that the reason it ranked so high in our results was that everyone on Facebook was talking about Farmville the game, not the city. Sorry Farmville, Virginia, better luck next year!
The Top 10 Destinations Of 2012, According To Facebook
Most people limit their exploration of Southeast Asia to its better known neighbors of Thailand and Vietnam. But Laos has tremendous bounty to offer and according to Facebook users, Luang Prabang is its shining jewel. Dramatic, green-draped mountains and the sluggish Mekong River are the backdrop for this beautiful city, where French architecture, gilded temples and cobblestone streets create an ancient and romantic feel. Combine all this with terrific Southeast Asian food and the friendliest people you'll ever meet and you have a sensational travel "must" for 2012. Photo: Flickr/amanderson2

Facebook has been buzzing about "The Pearl of the Adriatic" throughout 2011. This Mediterranean gem has been a popular cruise port for years, but travelers are finally coming on their own accord to experience its beautiful beaches, stunning scenery and fascinating history. No trip would be complete without wandering through the Old City of Dubrovnik; this walled section of the city dates back centuries and includes Renaissance churches, Gothic palaces, monumental forts and much more. Photo: Flickr/hozinja

Spain is well trampled on the typical tourist path. But, if you've never made it to Granada and the Alhambra, then Facebookers will tell you that you need to visit Spain again! Granada is a beautiful town at the foot of the Sierra Nevada mountains and only one hour from the Mediterranean coast. The town hosts beautiful buildings and churches, old winding streets and wonderful restaurants. But, its biggest draw is the mighty Alhambra, a Moorish palace and fortress complex set atop of a hill overlooking the town. The tremendous expanse of this complex mixed with its intricate and elaborate Moorish architecture make it a "must see" on any bucket list. Photo: Flickr/Unhindered by Talent

Haven't heard of Penticton? Well, heaps of folks on Facebook have and are buzzing about this scenic town. With beautiful beaches, a burgeoning wine industry and outdoor activities galore, it's quickly becoming a year-round vacation hot spot. Located in the Okanagan Valley, Penticton draws a variety of active travelers. Rock climbers come to challenge themselves at the world-class Skaha Bluffs, and snowbirds have recently been drawn here now that World Cup Freestyle Skiing makes an annual stop at nearby Apex Mountain. In Salish, the language of the area's original inhabitants, Penticton translates into "A Place to Stay Forever" and with its great weather and beautiful surroundings, it's easy to see why. Photo: Flickr/keepitsurreal

Known for its Southern charm, delicious Lowcountry cuisine and a bevy of historical attractions, Charleston is a destination you won't soon forget. Whether you choose to visit the city's surrounding antebellum plantations or take a carriage tour of downtown, you'll feel as though you've gone back in time exploring this friendly and laid back Southern city. No wonder it's gotten so much attention on Facebook recently! Photo: Flickr/BlackburnPhoto

Color! Life! Beauty! These are the words most often expressed in Facebook comments and photo descriptions when thinking of lovely Cartagena. A UNESCO World Heritage City with a rich history, its cobblestone streets are made for strolling, gazing and reveling. Also, its proximity to the Caribbean coast make it a great spot for soaking up sun and enjoying a thriving beach culture. Photo: Flickr/Luz Adriana Villa A.

Portland, Oregon is on everyone's travel hit list and for so many wonderful reasons. But this year, the Rose City has generated even more Facebook hype than usual. We think it's because this funky city on the banks of the Willamette River has great food, a lively music scene, micro-breweries galore and beautiful scenery at every turn. Add all this to the fact that it's one of America's greenest cities with an attitude all its own, and you've got yourself one rockin' vacation destination for 2012. Photo: Flickr/K. Kendall

For travelers looking for the next greatest, underrated destination, our Facebook mining technology will tell you to look no further than Estonia and its beautiful capital, Tallinn. Its amazingly well-preserved Old Town was declared a UNESCO World Heritage Site in 1997 and it was even named a European Capital of Culture in 2011. Photo: Flickr/archer10 (Dennis)

This picturesque little town on the shores of Lake Titicaca is a great place to relax, soak up the sun and explore the many islands dotting the massive lake. According to Facebook users, a few must-do's in Copacabana include eating some fresh-caught trout from one of the trucha stands along the shore, enjoying a cold beer while taking in the shimmering lake with its backdrop of the white-capped Andes mountains or just taking a stroll through the lovely little town with its many churches and colorfully dressed locals. Photo: Flickr/Cecilia Heinen

White sand beaches, 3,000-year-old Chinese covered wooden bridges, delectable cuisine and tailor shops as far as the eye can see; these are just a few of the things that have helped Hoi An make a splash on Facebook as a spectacular travel destination. Located about halfway up Vietnam's coastline, Hoi An is a UNESCO designated World Heritage City with laid back charm, interesting history and stunning architecture. This town truly has something for everyone. Photo: Flickr/jmhullot