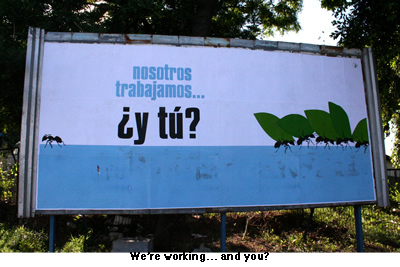 Last week we were talking about ants, people and the small traditions that sustain us day to day. Well, a few meters from my house I found this billboard with the same metaphor of the insects. Unlike the anthill imagined by me -- where everyone has a place -- here there is a creature apart. It frightens me to think that the lonely little ant represents the intellectual, or people -- like me -- who are informal workers because we have no licenses to be Spanish teachers or other worthy occupations. The tiny segregated one could refer to those who receive remittances and see no sense in working for a salary more symbolic than useful. On the left, below this billboard, you could see a woman who sells coffee at the corner of my house, who gets up at five to brew it and plays hide-and-seek with the police. The young man who left his studies and sews shoes at the workshop of his cousin, though the Sector Head considers him an habitual vagrant, a derelict, who refuses a job commensurate with his qualifications because he's not politically correct. Many could be the tiny ant who carries no leaves in his hands... because the others are not only the workers, but also the authorities, the group of those who never get out of line.
This Blogger's Books and Other Items from...
SUBSCRIBE AND FOLLOW
Get top stories and blog posts emailed to me each day. Newsletters may offer personalized content or advertisements.
Learn more