Originally published on Youthradio.org, the premier source for youth generated news throughout the globe.
President Obama recently announced that certain undocumented immigrants can be granted low-priority status for deportation, including DREAM Act-eligible students (as well as those with long-standing ties to the country). This announcement struck one undocumented person in particular -- Higinio Agaton, recent graduate of the California State University of Sacramento (CSUS), who awaits his deportation hearing this Thursday. The announcement means a glimmer of hope for Agaton to remain in the country.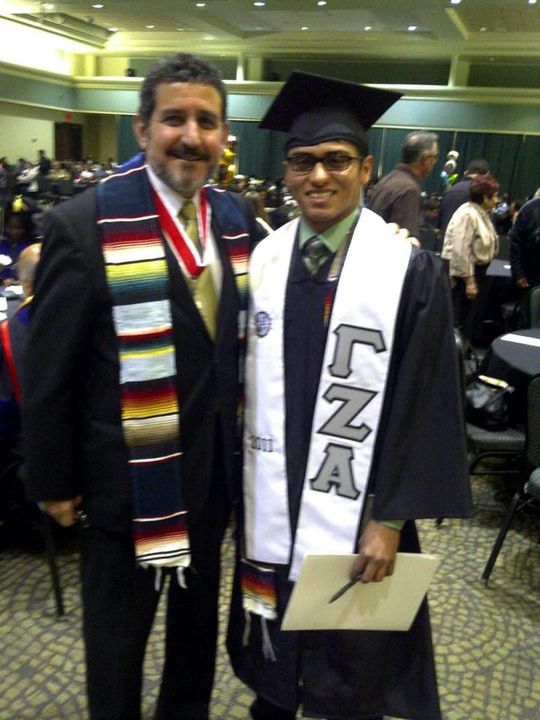 Photo Credit: Higinio Agaton/Youth Radio
Dr. Emir Jose Macari (left), Dean of The College of Engineering at CSU Sacramento and fraternity advisor of Gamma Zeta Alpha Fraternity Inc, with Higinio Agaton (right) at his college graduation.
I spoke with Agaton, who told me how he ended up in the custody of Immigration and Customs Enforcement (ICE).
During spring break, Agaton said he was at a bar just two blocks from his apartment with some friends. They had all been drinking. When they came out of the bar, local police watched them get in their car and drive home. Unluckily for Agaton, he had a broken tail light. The cops pulled him over and asked for his driver's license. Agaton said he told them he didn't have one, and was asked to step out of the vehicle, handcuffed, and taken away.
He described what happened next:
I was taken to a county jail. I got a DUI. Usually, everyone gets arrested and then released after they sober up. I wasn't.
They called my name and I was transferred to a new cell. There was a hold on me so that I wouldn't be released. They gave me a uniform as an inmate. I was there for a night.
Then they transferred me to the fifth floor. It's the Mexican place. There are two different sides -- the East and the West side. If you're Mexican, you're put with the Sureños.
I was there for two more nights. I didn't sleep, eat, or s**t the whole time. I wasn't used to that. I couldn't stop thinking about my situation, what would happen next. I was going to graduate in June, this was March. I was thinking about the worst case scenario. I didn't have anything to prove that I had an education.
After that, Agaton said he was transferred to an ICE detention center with several other immigrant detainees. "They handcuffed me and put a chain on my waist that connected 15 of us. I felt like an animal. Just to transfer us to a van," he said.
Agaton said they were taken to the ICE facility downtown where he was pressured to sign a voluntary departure agreement. "They told me if you sign this right now, we'll take you to Oakland and you'll be on a plane to Mexico. Everything will be fine. ...I said I needed time to think about it. They said if you want, you can fight your case in front of a judge, but you will be detained in Arizona or Texas and it takes three to six months."
At CSUS, Agaton was part of a Latino fraternity that did a lot of work with the DREAM Act. His fraternity brothers moved quickly on his behalf. Agaton said they sought help from the Mexican Consulate and then from a non-profit organization. Just before he was going to sign his departure release, Agaton was released on bond, which allowed him to graduate from college.
According to Agaton, he had the chance to go before the judge. However, he had no relatives with citizenship to sponsor him. Agaton's mother, who had brought him to the U.S. at age 15, had returned to Mexico for cancer treatment. "I had no defense. I kind of gave up. The low-priority announcement gave me lots of hope," he said.
The Obama administration has begun sifting through individual cases to check for low-priority status. Ideally, however, Agaton's case would have been reviewed and already thrown out before his deportation hearing was scheduled to minimize the risk. "You don't want to set foot in the immigration court hearing. You don't want to face an ICE attorney," he said. There is currently a petition on Change.org with 885 signatures asking ICE to stop Agaton's deportation.
This whole ordeal has made Agaton want to go to law school and pursue immigration law. In fact, throughout his whole life, education has been a positive force.
When he came to the U.S., Agaton didn't speak any English. He started high school and by the end of his first year, he said he had mastered the English language, and was recognized by the school district for his accomplishments. This was the moment that Agaton knew he wanted to continue toward a college education in America.
When he got to college, he delayed graduation to pursue a second major because of his immigration status. "I felt like if I graduated, I wouldn't be able to find another job. I would be a college grad working at a fast food restaurant," he said. "I decided to go for a second major [in] computer engineering," he said.
There are countless stories like Agaton's; individuals with no prior criminal record are picked up as a result of ICE's Secure Communities program, and treated like Level 1 threats to U.S. security. Meanwhile, President Obama says ICE should use the discretion they have been granted and determine those who are low-priority.
Agaton shouldn't have driven the car that night. "I regret it. I made a huge mistake," he said. On Thursday, the immigration court will decide whether he gets another chance.
Youth Radio/Youth Media International (YMI) is youth-driven converged media production company that delivers the best youth news, culture and undiscovered talent to a cross section of audiences. To read more youth news from around the globe and explore high quality audio and video features, visit Youthradio.org
SUBSCRIBE TO & FOLLOW LIFESTYLE
HuffPost Lifestyle is a daily newsletter that will make you happier and healthier — one email at a time. Learn more