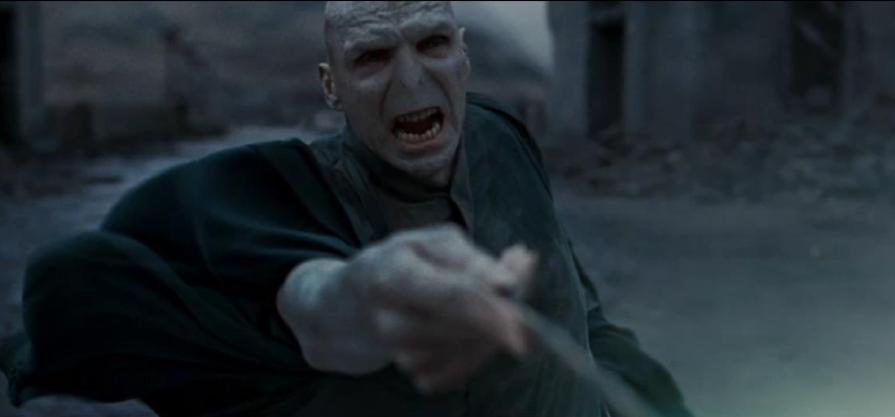 Originally published on Youthradio.org, the premier source for youth generated news throughout the globe.
I've never run a marathon, but I imagine that crossing the finish line feels insanely satisfying. I imagine that you feel an intense connection with the people that finish alongside you because the journey is long, hard, exhausting, emotional, and awesome.
Watching the final installment of the Harry Potter series in a packed theater felt exactly like that. If you have gone the distance with Harry, Hermione, and Ron (actors Daniel Radcliffe, Emma Watson, and Rupert Grint)—then going to see "Harry Potter and the Deathly Hallows, Part 2" in a theater this summer is worth it just for the audience interaction. Spontaneous clapping erupts when villains are zapped, and tears fall in sync during tender moments.
If you're not a die-hard fan, and did NOT wear your Gryffindor cloak to the theater or paint a lightning scar on your head, the 3D is actually worth it—especially during the opening thrill scene when the three young wizards break into Gringotts, the Wizarding Bank. It's literally a roller coaster ride.
This movie is the final face-off between Lord Voldemort and Harry Potter. By this point, we have outgrown Quidditch games, school dances, and final exams. Harry has no more living mentors to give him advice. It's life or death for the rebellion.
Sound familiar? The wand duels between Voldemort and Harry often resemble light saber duels between Darth Vader and Luke Skywalker, and the armies of creatures appearing en masse at the top of a hill before storming Hogwarts, takes you back to the final battle in the Lord of the Rings trilogy. Okay, so maybe there is some sort of formula for great epics—but this one can stand alongside the best of them.
In this movie, Harry has to face his own death and embrace it. Lucky for Harry, he gets the chance to confront his dead parents, relatives, and friends: "Does it hurt—dying?" At this moment, we are made aware of how much Harry has grown since the first movie appeared in theaters. Filmgoers don't often get to see actors and actresses grow up, which is why the epilogue scene showing Harry, Hermione, and Ron 19 years into the future is a trip.
In terms of character spotlights, Ron and Hermione are on the sidelines in this movie—shy and awkward with their new romance. In their place, other characters are given sweet moments of revenge and vindication including Professor McGonagall (Maggie Smith), dorky and hesitant Neville Longbottom (Matthew Lewis), and Mrs. Weasley (Julie Walters).
Do you need to read all the books or see all the movies to understand this one? It depends on how deeply you want to understand what's going on. This story has so many layers—you can dig as deep as you want for explanation and meaning, or you can watch a pretty awesome 3D action movie with lots of monsters. There are a few moments that won't make sense without background—like the bloody, soul-fetus creature curled up on the floor towards the end. Likewise, if you are loyal to the books, you'll notice some significant chunks left out.
One moment to watch for: Harry and Voldemort's faces mesh together while their grappling bodies fly through the air. For a couple creepy seconds, a skeletal Joker-esque face fills the screen.
Youth Radio/Youth Media International (YMI) is youth-driven converged media production company that delivers the best youth news, culture and undiscovered talent to a cross section of audiences. To read more youth news from around the globe and explore high quality audio and video features, visit Youthradio.org
SUBSCRIBE AND FOLLOW
Get top stories and blog posts emailed to me each day. Newsletters may offer personalized content or advertisements.
Learn more