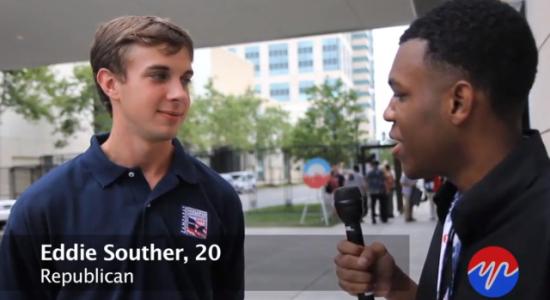 Photo Credit: DENISE TEJADA/Youth Radio

Eddie Souther, 20, at the DNC.
The Democratic Convention started in Charlotte yesterday, but Democrats aren't the only people in town. We interviewed young Republican Eddie Souther about what it's like to be in a Democratic mecca, and about how young Republicans are positioning the party to appeal to other youth.
Originally published on Youthradio.org, the premier source for youth generated news throughout the globe.
Youth Radio/Youth Media International (YMI) is youth-driven converged media production company that delivers the best youth news, culture and undiscovered talent to a cross section of audiences. To read more youth news from around the globe and explore high quality audio and video features, visit Youthradio.org
SUBSCRIBE AND FOLLOW
Get top stories and blog posts emailed to me each day. Newsletters may offer personalized content or advertisements.
Learn more