I spent part of my summer visiting quaint locales in the continental U.S. and discovered there's much to love about thrift store shopping outside of major cities. (Sorry, New York City and Los Angeles!) For one, there are less fashionistas vying for highly coveted pieces. Secondly, in towns like Gloucester, MA and Princeton, NJ, thrift store finds are -- well -- actually thrifty. From $3 to $20, check out my prized vintage buys and the looks I pulled together...
Jazzercize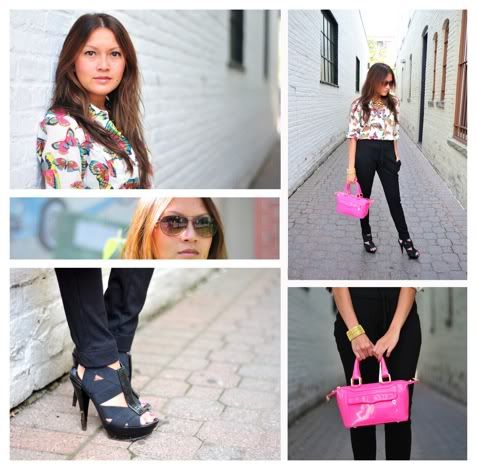 When my friends Wendy Toth and Amy Sung schooled me on how to wear sweatpants in public, they blew my mind. I wanted to do the deed justice, so I paired my shrunken (by accident) black drawstring sweatpants ($19.99 from an Urban Outfitters clearance rack) with a lightweight vintage butterfly button-down ($7.99 at Dress Code).
I sported the wonderfully clashing twosome with sky-high Jessica Simpson Kambodia Platform Sandals ($39.99 at Marshall's) to lengthen my legs as I'm a tiny 5'1", and topped the look off with gold accents: a gold bib necklace ($14.99 at Kohl's) and an elastic gold cuff ($14.99 at Loehmann's). Without the proper accessories, a sweatpants ensemble will just look sloppy.
I splurged on the neon pink Rebecca Minkoff "Mini Mini" Satchel ($174 at Loehmann's after my mom's VIP discount code) and Marc Jacobs aviator shades ($140 at SmartBargains.com) -- my go-to pieces of the year.
Go Big and Bold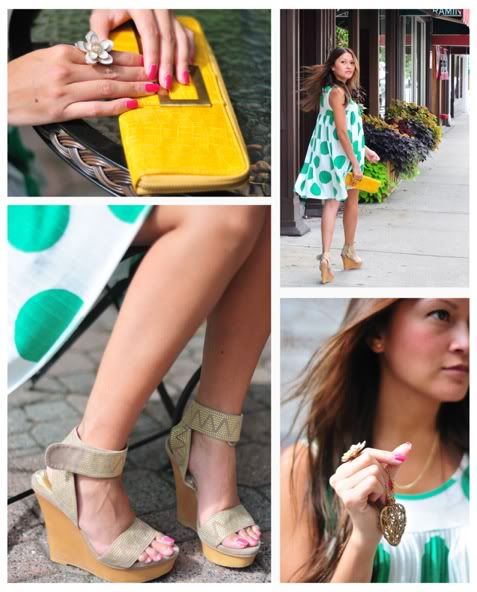 It was love at first sight when I spotted this vintage white and green polka dot trapeze dress for $16.99 at Dress Code. Although I've been told that trapezes are out and figure-conscious dresses are in, when it comes to cute, there are always exceptions. With a bold print like this, a dangling heart necklace ($4.80 at Forever 21) and an oversized flower ring ($5.80 at Forever 21) are all you need. Don't cinch, don't layer and don't over-accessorize.
I sported the fun, frugal find with a comfortable pair of Dollhouse wedges ($34 at Endless), which coincidently happen to go with everything (score!), and lugged my belongings around in a yellow faux-leather clutch ($34.99 from some store, I can't remember).
Size Doesn't Matter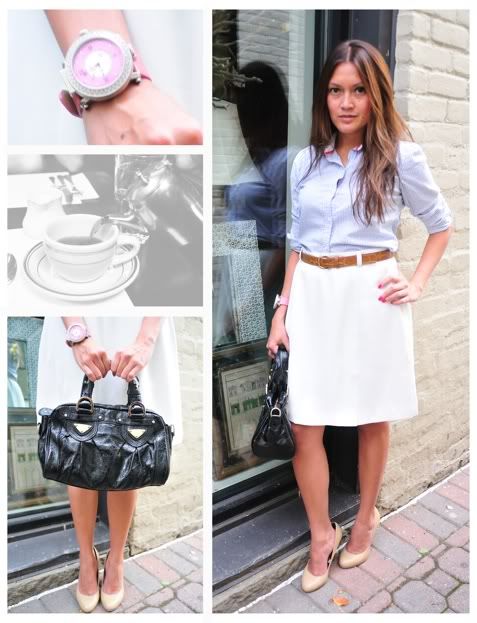 I'm between a size 2 or 4. See this skirt? It's a 10! When you buy vintage, don't pay too much regard to the numbers you see on tags. For one, clothing measurements have evolved over the years. Secondly, quality fashion finds are versatile with some creativity. If you see an item that makes you say, "Gotta have it," you can make it work.
My method for making the six-sizes-too-big white linen skirt ($8.99 at Greene Street Consignment Shop) work? A textured tan belt (a $3 thrift-store find at Bananas) cinched to perfection. I teamed it up with the blue and white Oxford Shirt ($26.50 at Old Navy), nude Mossimo Virginia Pumps ($29.99 at Target), a black patent leather Charles David satchel (a gift) and a pink Glamorist watch ($80).
Young at Heart

One's never too old to be playful -- not to mention, shop at the kids section. This checkered bow skirt ($6 at Cape Ann Thrift Shop) didn't come from the grown-up's department. (Shhh, don't tell!) While young girls might wear this skirt around their waist to reach down inches below their knees, I've decided to sport it high-waisted with a white Mossimo Long and Lean Tank ($8 at Target) and vintage flip-flops I scored for $5 at Goodwill.
I finished off the look with the Simply Vera Vera Wang Cross-Body Handbag ($29.50 at Kohl's) and an elastic gold cuff ($14.99 at Loehmann's). So fun, so fresh!
FOLLOW HUFFPOST