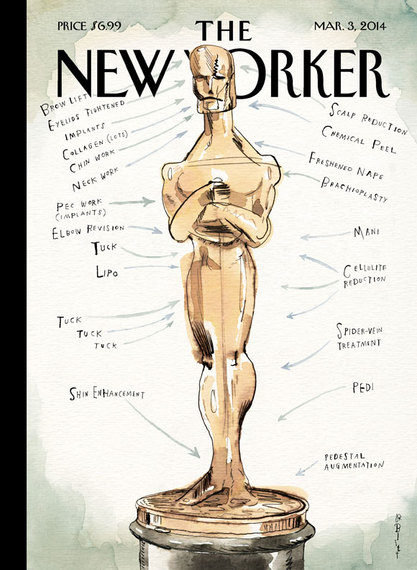 It's Academy Award time! That means the beauty and entertainment worlds are abuzz with endless lists of Award night predictions: Who will win, what will be worn and who has had work done? And the door is wide open for satire. The best example is this week's New Yorker cover, entitled "Ready for his Closeup," which depicts Oscar himself atop his pedestal, amidst a floating list of the cosmetic procedures he's undergone to get ready for his big night.
The pre-Oscar forecasts usually focus on women's beauty and fashion. But what about the men? For so long, men's grooming and fashion had been so unremarkable, there was hardly any need to address the topic. But in the last few years, there has been a rebirth of style in the men's arena, and the attention is beginning to shift. Gentlemen on the Red Carpet are taking more risks (think Matthew McConaughey's deep green velvet tux at the Golden Globes) -- and they are spending more time on their hair, taking cues from historical styles from the 20s right up through the 60s. Men's cuts have gotten closer, higher and tighter. But more surprising is the styling: the return of the part and slicked hair has gotten much attention in publications like Details Magazine and online blogs.
Whether this is a case of life imitating art or the other way around is an enduring argument. I do believe we have a number of movies and television shows to thank for this broad resurgence of classic looks. In recent years, we've had Mad Men and Boardwalk Empire to inspire us, as well as 2013's Great Gatsby and Monuments Men. And sure, there are celebrities like Mr. Dicaprio who have sported the parted, slicked look on the Red Carpet for years. But there are newcomers to the style, like Mr. Timberlake and Mr. Pitt, who's closely cropped and combed hair is a real departure from past looks.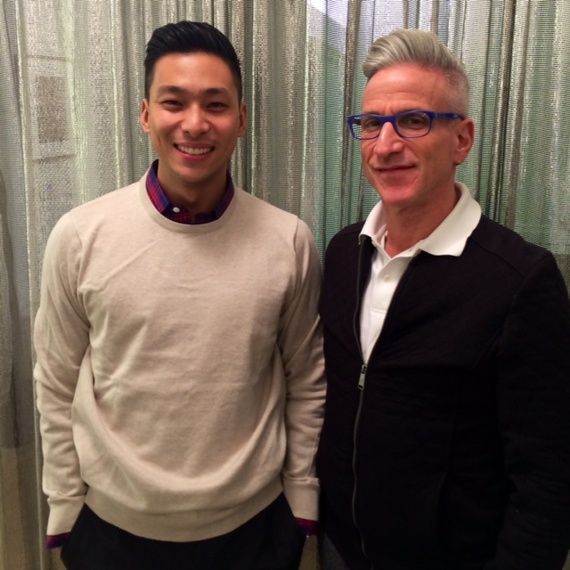 What I love about this shift in men's style is that although it is inspired and informed by looks from last century, it is very wearable right now. Our very own resident Men's Groomer, Amelie Lemoine, adds that the most modern update ot the movement is a nicely manicured 5 o'clock shadow. "Three or four days' growth with a clean line on the cheeks and neck is very stylish and current," she says. With or without the scruff, it's a highly requested look in the salon, worn by many of our regular clients and staff. And I predict we will see much of it on the Red Carpet this Sunday -- along with a good amount of Botox, collagen, and chemical peels.