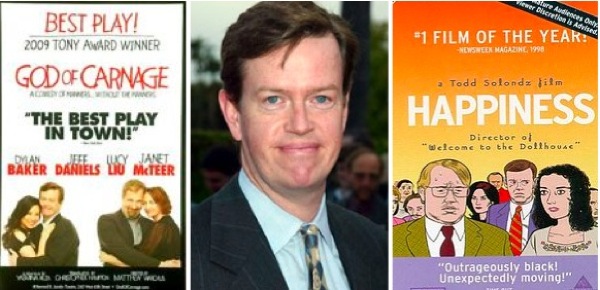 Boyishly handsome with piercing blue eyes and an enigmatic smile actor
Dylan Baker could easily play to type .The talented Mr. Baker delivers dramatic subtle performances of deeply flawed modern men. Since his brilliant turn as the immoral and depraved Bill Maplewood in the film "Happiness", Dylan has garnered kudos from critics and audiences. (Independent Spirit Awards, Critics Choice ). One of the most original and steadily employed actors in the business Dylan excels in roles on stage (Eastern Standard, La Bête, Mauritius, November, God of Carnage) television (Damages, Smash, Law & Order Criminal Intent, Kings) and film (Thirteen Days, Road to Perdition, Revolutionary Road, Spider-man 2,Spider-man 3). His role as Colin Sweeny on "The Good Wife" has earned two Emmy Award nominations for Outstanding Guest Actor. Equally in demand for theater roles by the best playwrights (David Mamet, Theresa Rebeck, Howard Korder) an actor of his depth must have a role he yearns to play. "I was always drawn to play Shakespeare's King Henry II, and I even worked on his speeches for years. I never got a chance to play him, tho Colin Sweeney is a bit of a modern take on him. I don't know if Sweeney will ever have the self-awareness and clear-headed thought process that Henry has, though. But perhaps season 6 will venture into a new realm: "Let's sit on the ground and tell sad stories of the death of millionaires". " Dylan has been directing regional (New Jersey Shakespeare Festival, Williamstown Theater Festival) and Off Broadway theatre ( Drama Dept )between acting roles. He is making his feature film-directing debut with the independent film, " 23 Blast". 23 Blast actually is based on a true story about guy named Travis Freeman, a football player in Corbin, KY who after he lost his sight, played football again. That was pretty exciting. For those families to trust us with their story, to have faith that we would render their story on the big screen in a way that would honor that story. It is an awesome responsibility, and it's humbling. The same work ethic and craft he applies to his acting Dylan brings to directing. "I love to work with people, to find those who are the best at their jobs, and to turn them loose to do their thing. I have heard it said that 90% of successful directing is casting, and I agree, but I'd raise that maybe 9% more. I love actors, I love watching them work. And now that I have seen what a great editor can do, that really attracts me to directing. The editing process was even more enjoyable than shooting, and the shooting was a gas! My film, 23 Blast, really opened my eyes to the potential of film, the possibility of telling a story, of thrilling an audience sith a communal experience. I never get over hearing a crowd laugh together at something I think is funny; it is the best high ever."
23 BLAST - Trailer from Knoxville Film Festival on Vimeo.
A class act, Dylan's greatest pleasure is his contribution to the work. "I think all acting is a descendant of that first impulse around the camp fire to tell a story. I enjoy telling stories, and I love it, film, TV, theater, when I can do my part and get that story out there. When you really connect with an audience to the point where they get the message, they happily go on the journey the writer intends to take them on, that brings me great joy. "