I was in LA to cover the Oscars and it seems that Hollywood has gotten royal fever during Oscars week. Dining at West Hollywood hotspot Cecconi's last Saturday, I was at a table next to Vera Wang, who incidentally has the skinniest pair of legs I've ever seen, which she encased in a pair of chic black leather leggings. Vera divulged that she had just been partying the night before with Arianna Huffington and Wendi Murdoch. Talk about a powerful women trifeca!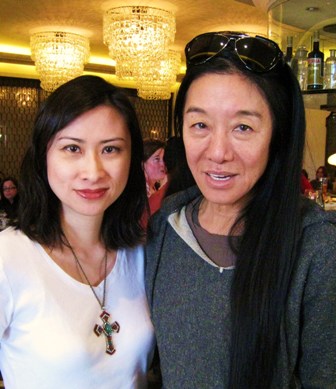 Having long reigned as the queen of celebrity bridal designers, Vera and I naturally had a girl-talk about the royal wedding dress. She told me she thought Vivienne Westwood would be a wonderful choice as the designer, and I filled her in on the fact that a little-known young woman is actually designing Catherine's gown, which Huffington Post readers know since I've released that world-exclusive scoop here a couple of months ago. Wang enthused, "You know everything about the royal wedding -- so much more than I do!"
While she's not well-versed with the latest royal wedding details, Vera certainly knows what makes a regal Oscar dress as Sandra Bullock demonstrated the next day at the Academy Awards in her scarlet, custom-made Vera Wang gown -- one of the most successful looks of the night.
***For more royal wedding news, visit our Royal Wedding Big News page.***
On the morning of the Oscars, I ran into a very dressed-down and scruffy-looking Ralph Fiennes in West Hollywood (the place to hang out during Oscars week) as he popped in for brunch at my hotel, the Palihouse. Coincidentally, the actor has played a number of royal and noble roles including the Duke of Devonshire and Lord Voldemort in the Harry Porter series. Ralph had cleaned up considerably when I saw him again 12 hours later at the Vanity Fair party at the Sunset Tower hotel in West Hollywood. This is the hottest post-Oscars party of the night, and the one that the stars make a beeline for -- despite the frigid temperatures that evening.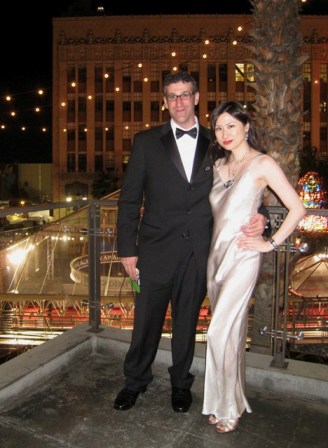 If you didn't have an invitation, you could still have gotten in if you did what David Seidler did. The winner of the Best Original Screenplay award for The King's Speech swept past security simply by flashing his Oscar statuette. I saw Seidler earlier, backstage at the Kodak Theatre after his win, and he was asked if he had any further contact with the palace, and if he knows whether the royal family has seen the film.
Seidler replied, "We have certainly heard, and it has not been denied and it could easily be denied, that Her Majesty has seen the film. We are told that she was moved and amused. I am deeply moved by that, and I am very gratified that if this is true, she clearly understood that this was written and made with a great deal of love, affection and respect for her father."
It seems that Hollywood has been catching royal fever in many ways. Not only did The King's Speech reign over Hollywood's biggest night with a sweep of the Best Picture, Best Director, Best Actor and Best Original Screenplay awards, Natalie Portman received her Best Actress Oscar as the Swan Queen for Black Swan. Best Supporting Actress winner Melissa Leo dropped a deeply curtsy on stage to Hollywood royalty Kirk Douglas before receiving her statuette. Fellow nominee Helena Bonham-Carter recently discovered, to her surprise, that she's related to the royal bride-to-be, Catherine Middleton. Next up, Madonna is writing and directing the upcoming film W.E. -- a biopic on King Edward VIII and Wallis Simpson.
I was the first to interview Colin Firth backstage at the Oscars after his Best Actor win. Since The King's Speech reportedly received a royal nod of approval from the Queen herself, I couldn't resist jokingly asking Firth if he'll be receiving an invitation to the royal wedding now that he's won an Oscar for his portrayal of King George VI. Firth played along and quipped, "Mine's almost definitely got lost in the post somewhere!"

SUBSCRIBE TO & FOLLOW LIFESTYLE
We're basically your best friend… with better taste. Learn more