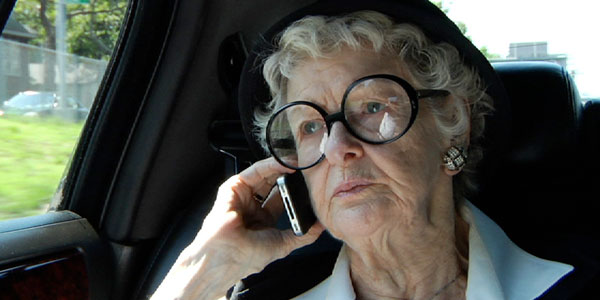 Elaine Stritch in a scene from Elaine Stritch: Shoot Me. Photo Courtesy of the Tribeca Film Festival.
Fraud, redemption, suicide, fear of failure, the ineluctable dance with death, alcoholism, and the addictive joy of creating art -- these are a few of the recurring themes in some of the highlights from this year's Tribeca Film Festival.
Now in its 12th year, this celebration of independent film has become a first-rate showcase for outstanding new documentaries, while the fictional entries tend to be understated pieces, often starring well-known Hollywood talent.
This year's revelation is Elaine Stritch: Shoot Me, Chiemi Karasawa's remarkable portrait of the legendary 87-year-old Broadway veteran. Irresistible and inspiring, Shoot Me is an unflinching no-holds-barred look at this New York institution, as she faces aging and bids farewell to the theater with dignity and a wicked sense of humor. Karasawa's all-access pass takes us into her apartment at the Carlyle Hotel, onto the set of 30 Rock (where she plays Alec Baldwin's irascible mother), into her hospital suite after a hypoglycemic attack, across the country for her six city tour, and out to several lunches, where we witness her step off and on the wagon (Stritch is a recovering alcoholic who now occasionally treats herself to a daily cosmo). Through it all, she turns aging into an art form, and she triumphs in spite of every forgotten lyric. Like the subject of Ricki Stern's and Anne Sundberg's excellent Joan Rivers: A Piece of Work, Stritch embodies the work ethic of an artist married to her craft. She's also surprisingly warmer than Rivers, making her an infectiously charming companion for the film's all-too-short 80 minutes. During a talkback after the film's premiere, Stritch quipped: "I liked it very much and look forward to seeing it again. But I would never want to be in it."
In a very different Upper East Side story, Victor Kubicek and Derek Anderson's documentary In God We Trust, we find an unlikely hero in Bernie Madoff's secretary of 25-years, Eleanor Squillari. Serving as a companion piece to her Vanity Fair exposé about her former boss, the film unfolds like a gripping crime thriller, as Squillari works with the FBI to hunt down the culprits and suspects linked to Madoff. The directors clearly explain Madoff's modus operandi for a lay audience and we get a thorough and revealing behind-the-scenes tour of his now-infamous 17th floor (complete with the outdated IBM computers that allowed him to dupe his investors with counterfeit statements). Visually, however, the film often relies heavily upon bland B-roll footage of Squillari performing (or perhaps reenacting) mundane tasks. It's uncomfortable when you have to question the authenticity of the images in a film whose central theme is fraud. Toward the end of this tragedy, Squillari loses her home and worries that she might never find another job because of her ties to Madoff. Hopefully, Kubicek and Anderson's film will provide her with the opportunity for a new beginning.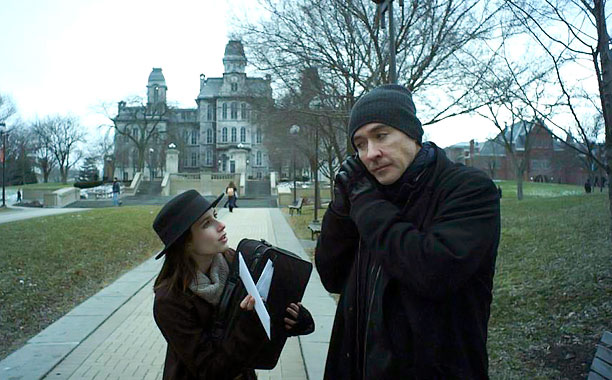 Emma Roberts and John Cusack in Adult World. Photo courtesy of the Tribeca Film Festival.
In a far less dire tale of unemployment, Emma Roberts plays the cloyingly perky and ambitious aspiring poet Amy in Scott Coffey's second full-length feature, Adult World. When Amy's parents cut the umbilical cord one year after college, she finds herself working at a porn store in Syracuse, alongside a scruffy young artist (Evan Peters from American Horror Story) and an eccentric drag queen (a highly entertaining Armando Riesco). Meanwhile, Amy is determined to become a protégé to her favorite living poet Rat Billings, now a washed-up, bitter burnout (John Cusack). When this uneven romp delights, it's largely due to the efforts of a fine ensemble of actors, who enliven many of the script's clichés and obvious gags; we open, for instance, on poster of Sylvia Plath looking down on Amy attempting to commit suicide. Adult World works best when it focuses on the relationship between Amy and Rat; everything that goes on in the porn store feels stale, superfluous and improbable. (Don't even bother asking why a struggling smut shop would possibly need five full-time employees.) Sharing many of the same elements as the far more polished Wonder Boys (Curtis Hanson's adaptation of Michael Chabon's novel), Adult World eventually finds its footing due to a refreshing, unconventional message about mentorship and the creative process.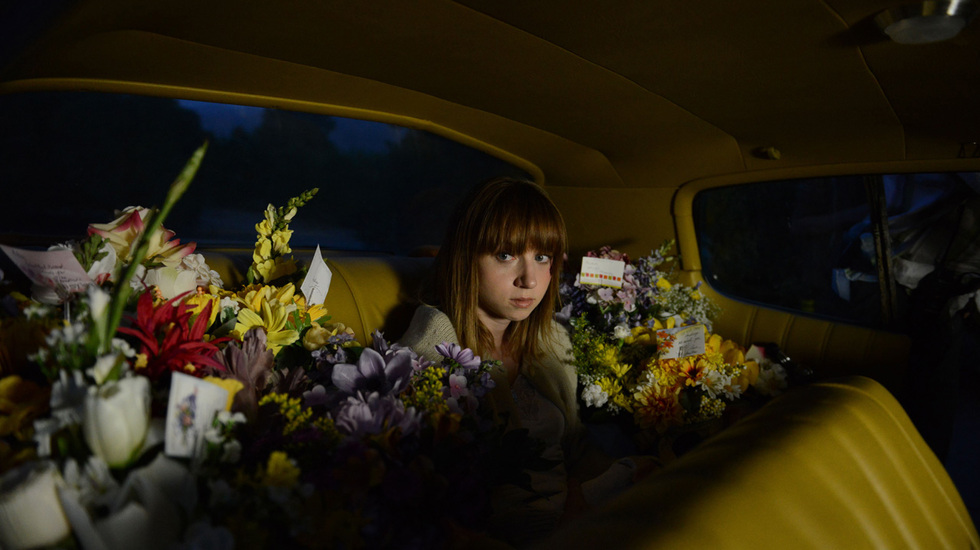 Zoe Kazan in a scene from The Pretty One. Photo Courtesy of the Tribeca Film Festival
For a more satisfying portrait of an emerging artist, I recommend Jenée LaMarque's charming directorial debut The Pretty One. Zoe Kazan (Ruby Sparks) shines as Laurel, a twin who assumes the identity of her sister Audrey (also Kazan) after a fatal car accident. While the premise suggests a comedy of errors akin to The Parent Trap, LaMarque strikes a decidedly sober tone that initially feels like an odd match for her quirky screenplay. Jake Johnson (New Girl) is highly appealing as Audrey's neighbor who gets caught in the web of Laurel's lies, and Kazan reaffirms her status as a rising star with tremendous range.
The Tribeca Film Festival continues until April 28th. For screening information, visit tribecafilm.com
SUBSCRIBE AND FOLLOW
Get top stories and blog posts emailed to me each day. Newsletters may offer personalized content or advertisements.
Learn more