The 10 Best Restaurants Owned By NFL Stars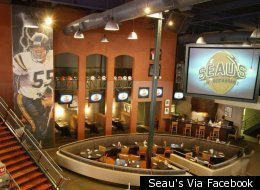 What do you do when you retire from the National Football League? Apparently, you open a restaurant -- preferably a steakhouse or a sports bar that serves "manly" foods like thick steaks, wings and nachos. With the NFL playoffs in full swing and the Super Bowl only a few weeks away, we thought we'd take a look at some of the best player-owned eateries nationwide.
Did we leave out your favorite? Let us know in the comments.
Also see: Ty-Lör Boring Talks Nudie Pics, Top Chef and Plans for His New NYC Eatery
Playing for the Denver Broncos, quarterback John Elway is regarded as one of the finest athletes of his time. Although he retired in 1999 (after a brilliant 336-yard throw and one touchdown, winning Super Bowl XXXIII) he now runs the Broncos as Executive Vice President and his fame continues through his various Colorado businesses, including his surf 'n' turf restaurant Elway's in Denver's Ritz-Carlton. He opened the place with Tim Schmidt a few years ago and the restaurant, with three Denver locations, features a raw bar, dozens of steak options and sushi.  Also see: Steak 'n Shake vs. Shake Shack: The NYC Burger Wars Heat Up

At 78 years old, Andy Nelson has perfected his hickory-smoked barbecue, and as it stands, it's some of the best in Cockeysville, MD. A former safety for the Baltimore Colts and New York Giants, Nelson played from 1957 to 1964. While his legacy has never been great, the popularity of his football memorabilia-laden restaurant continues to bloom. Though, at his age, his children are really doing most of the work - dishing up the piles of pulled pork, Memphis-style ribs, Dixie wings and pit-cooked beef. Also see: Controversial Restaurant Policies: When Should You Get Something For Free?

During his pro football career as a middle linebacker for the Miami Dolphins, John Offerdahl also ran a bagel joint with his wife in Weston, FL. Now he's retired from both gigs, but has kept a hand in the food business. At Offerdahl's Café Grill, which he opened in 2000 with seven locations around Florida, he still dishes up his famous bagels as well as Asian- and Mexican-inspired eats like Baja steak and ginger Thai chicken. Unlike a lot of the other NFL-owned restaurants, Offerdahl packs his meals with lots of vegetables and lean proteins. Also see: Top Chef Texas Episode 11: Obviously I'd Be Dopey

This chain of restaurants owned by former NFL coach Don Shula started small in 1989 with one location back in Miami Lakes, FL. Now the restaurant is a nationwide franchise with locations in cities like Chicago, NYC and Houston, and it's been spun off into other concepts like Shula's Grill 347 and Shula's on the Beach. While menus vary depending on the chainlet, at the namesake steakhouse you'll find all the classic steakhouse dishes alongside new favorites like crab mac 'n' cheese, mahi mahi and French-cut chicken. Also see: Sneak Peek: The 8 Hottest Openings of 2012

Opened by Michael Romanelli about 30 years ago, Tiffany's now has the added patronage of former Indianapolis Colts and Baltimore Ravens' former defensive tackle Tony "Goose" Siragusa. A little over a decade ago Siragusa became a partner at the New Jersey institution, which offers up not only 20 televisions to watch games, but classic sports bar fare like nachos, potato skins and killer wings. Now the partners have half a dozen shops in the state, and when Siragusa isn't helping run those, he tries his hand acting and doing sideline reporting for Fox. Also see: RedFarm Launches $18 Black Truffle Soup Dumplings

The menu at Junior Seau's San Diego restaurant is all over the place, much like Seau's career. From the San Diego Chargers to the Miami Dolphins and finally to the New England Patriots, this now retired linebacker went all over the country. At Seau's the Restaurant (in case you were confused between the man and the eatery), diners fuel up on the likes of jalapeño poppers, pork potstickers, pizza, sushi and burgers. He must be doing something right, since the joint has served for 15 years, almost as long as his football career.  Also see: Bowery Diner Opens on LES, Channeling Florent

Billy Sims continues to be a darling sports figure in Detroit, where he was a running back for the Lions. His career ended in the mid-1980s after a knee injury, but Sims continues to make headlines with his chain of Billy Sims BBQ restaurants all over Oklahoma and two in Missouri. Oddly enough Detroit doesn't get the benefit of his tangy meat and chili, but at least they got the legacy of "Kung Fu Billy Sims" to brag about. Also see: Acme First Look: A Genuine Hot Spot Splashes Down in NoHo

Retired Redskins quarterback Joe Theismann isn't throwing around the ol' pigskin anymore, but his Virginia eatery still dishes it out with the best of them. Joe Theismann's Restaurant made its debut in Alexandria over 30 years ago, and it continues to serve high-end comfort food. From crab cakes to lasagna to your basic burger, the place boasts fresh ingredients and a cozy vibe. Theismann may have had a bad break in his career (it's true, a broken leg ended it), but his restaurant keeps going strong. Also see: North End Grill Receives Liquor License, Launches Dinner

Finally retiring last year, Brett Favre's career spanned 20 seasons, and he is the only quarterback to have thrown for over 70,000 yards, tossed 500-plus touchdowns and had over 300 passes intercepted. At his namesake steakhouse in Green Bay, WI, the NFL star commemorates his time with the Green Bay Packers by decorating the joint with his trophies, photos and personal effects. The menu offers basic steakhouse fare with ribs, seafood, cuts of prime beef and such - not exactly as spectacular as his career, but hearty nonetheless.  Also see: New York's 8 Best Italian Restaurants

Even though Vince Young plays quarterback for the Philadelphia Eagles, his heart and his restaurant belong to Texas. Young was born in Houston where they have "Vince Young Day" every January 10, yet his steakhouse is located in Austin. The kitchen at the spot serves up an array of surprisingly "healthy" steakhouse dishes including a $23 brisket burger with Wagyu beef and a $50 Texas Akaushi beef steak, which is touted as a low-cholesterol meat. Sounds like the beefy player doesn't just have a big heart, but wants to maintain a healthy one. Also see: Video: Look Inside Talde in Brooklyn