Popular Indonesian salon and beauty school franchise Johnny Andrean wanted to get the word out about their new hair strengthening product. A simple television commercial or billboard ad was not enough. Instead, they opted for a more literal display: hanging what appears to be human hair ponytails on commuter trains in the capital, Jakarta.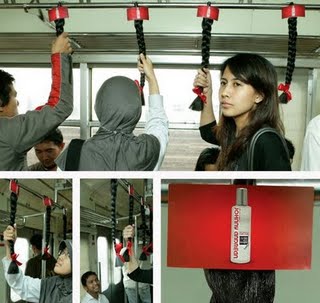 Besides being strong enough to keep commuters from falling during the average train ride (as illustrated by the picture above) the ponytails were decorated with a product card which told riders more about Andrean and the strengthening cream. Judging from the photo, the oddest part isn't the maketing tactic itself, but how totally blase subway riders seem about holding on to a random ponytail. Clever or creepy?
SUBSCRIBE AND FOLLOW
Get top stories and blog posts emailed to me each day. Newsletters may offer personalized content or advertisements.
Learn more