It is the summer of 2009, and the relative tranquility of West Broadway is shattered by the appearance of Laquan Smith. It's not his boyish good looks or lean 6'1 frame that turns heads -- but the sight of said frame draped in gold leggings, high-heels and a bright neoprene jacket. If onlookers were confused by where Smith was heading in that outfit, he wasn't. Smith's immediate destination was a Tommy Hilfiger party hosted by Paper Magazine. But his final destination? Dominating the fashion world.
At first blush, it seemed a tall order for a kid from Queens who was turned down by both F.I.T and Parson's and had only a brief internship at Blackbook Magazine to speak of. Yet no training and no contacts were no match for what he did have: intense ambition. Crazy outfits were only part of the plan to attract attention and build his Rolodex -- and it worked. By February 2010, less than a year later, Smith found himself experiencing a rise that was nothing less than meteoric.
In rapid succession he caught the eye of Vogue editor, Andre Leon Talley who brought him under his wing. The relationship was instrumental in garnering exposure for Smith's debut and sophomore collections, both of which attracted guests like Diane von Furstenberg and saw Venus Williams, and other celebs, walking the runway. In the blink of an eye, the young designer had morphed from outsider to insider, and the bright lights of Fashion stardom were finally flashing.
Then things went dark.
As 2011 began the designer retreated, as he tells it, to regroup and focus on transitioning from a bold-faced name to a business. His critics feasted on the quiet, interpreting it as the failure of a young designer who rose too soon. While others called it the end of a flash in the pan with minimal talent. But they didn't count on Smith's saving grace: intense work ethic. It was that which helped him land investors and build a team to assist with design, sales and press for his brand.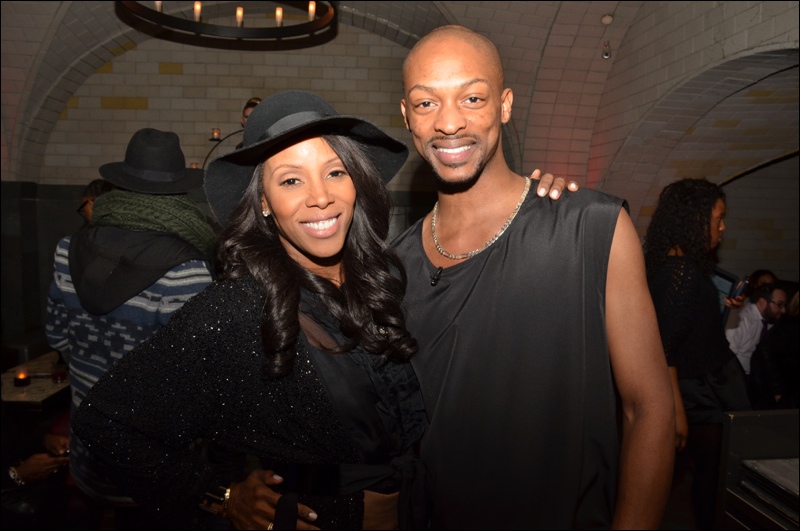 They surrounded Smith this past Tuesday as he calmly prepared for a glitzy return to the runway at the Bryant Park Hotel. Under the aegis of rising fashion publicist, Jacqueline Cooper, the show attracted notables like celebrity stylist June Ambrose (above with Smith), Bravo Reality TV Star Chef Roble, editors and bloggers alike. A casual sweep of the nearly two hundred people in the audience revealed a house divided. Many were there to congratulate, but some were there to critique.
Ironically, Smith gave both sides fuel for the fire with a collection that expanded on his neoprene based 'Water Goddess' debut. While the liberal use of the fabric could point to a lack of growth, his feminine silhouettes, inclusion of crocheted knits and clever use of eye-catching PVC details confirmed Smith's growth. The young designer had deftly turned out pieces that were at once fashion forward and wearable.
By the end of the evening the collection, titled 'Robotic Dream,' garnered the ultimate compliment from celebrity stylist Wouri Vice. "There was a cohesion and a precision applied to his work that I've never seen from him before," said Vice. "He showed you how one aesthetic could work for different women at every age and stage. Simply beautiful."
As those who agreed with that sentiment made a beeline to congratulate the designer, he greeted them with his signature smile. Smith doled out his greetings and hugs, dressed comfortably in black jeans, a black tank and black velvet Doc Martens. It was a far cry from the flamboyant young man who burst onto the scene two years ago -- but ultimately, it was no surprise. His simple dress, expanded collection and growing business were the manifestation of a course he'd charted years ago. After the hype, Smith has arrived where he intended all along.