Sarah Brown, Arianna Huffington and Donna Karan walk into a room. If you are anything like me, besides the urge to ask for a job, the next most natural question is: what are they wearing?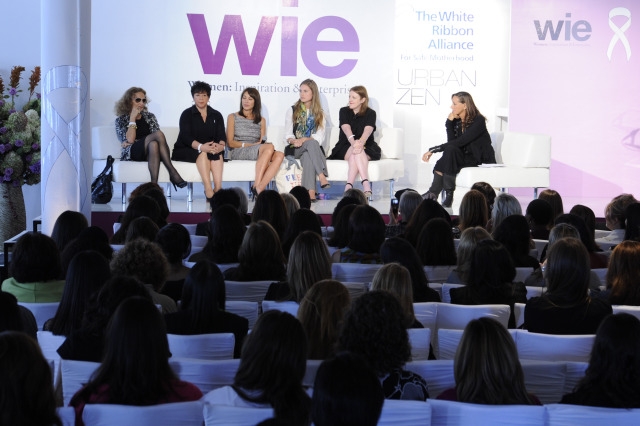 Unfortunately, I had the courage to ask neither on Monday, when all three hosted the first annual WIE (Women: Inspiration & Enterprise) Symposium organized by the White Ribbon Alliance, with Sarah Brown acting as Chair. The conference, which attracted over six-hundred women, had a main theme of "Women Inspiring Women." To that end a dazzling list of alpha-females took the stage to moderate and participate in a series of panels.
In addition to Huffington, Karan and Brown, Diane von Furstenberg, Wendy Murdoch, Melinda Gates, Queen Rania of Jordan and Hearst Magazines Chairman, Cathy Black joined in as panelists, moderators and keynote speakers.

Topics at the conference ran the gamut from helping children in developing countries to balancing work and life in ones twenties. While the audience was taking notes on what the esteemed panel was saying, I was taking notes on what the panel was wearing.
After all, in the world of fashion - or any industry for that matter - your wardrobe choices correspond with your run on the ladder of success. (Look no further than the significance of the "it" bag.) Was the common denominator in daytime chic of influential women a pantsuit, a sweater-set or something more elusive? Dressed as I was in waist cinching black spandex pants, a black v- neck tank and my modest attempt at modesty - a simple black blazer - I needed guidance.
And yet- miraculously- my slightly slutty take on the pantsuit had something in common with the audience and the panel: we were all draped in black! Clearly, the color, meant to signify mourning in so many cultures, still holds the dual role of signifying power in ours.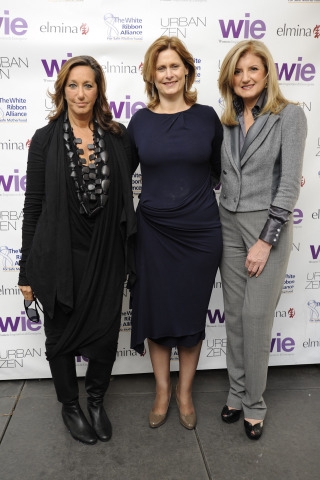 Brown, who spoke passionately about working to help children internationally, wore a black knee length dress which draped stylishly - and conveniently - at certain points.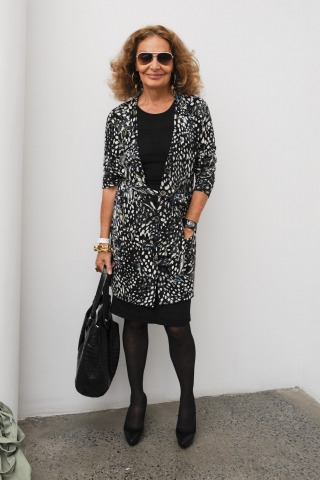 Donna Karan wore the same, but with her cosmopolitan twist: various layers and textures of black topped of with a bold necklace and punctuated by calf-length boots. Fellow iconic designer, Diane Von Furstenberg, followed suit in a signature look of her own: a black dress complimented with a relaxed blazer in black and white print.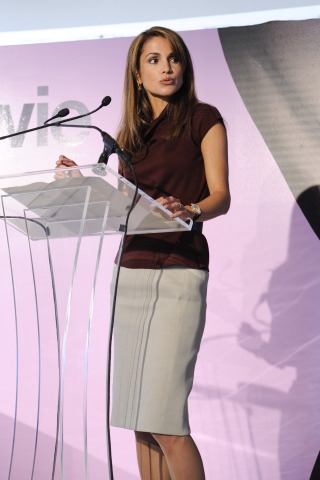 Naturally, breaking with tradition was our very own Arianna Huffington, who opted for a smart gray pant suit with black peep toe shoes. As did Queen Rania, more breathtaking in person than you can imagine, in a light gray knee length skirt and burgundy blouse.
As the afternoon wore on Cathy Black, who was refreshingly direct and candid in her advice, brought the color black back on the stage. Her ensemble, a skirt and top paired with a loose wrap highlighted one of her best physical assets: her legs.
Wendy Murdoch and Melinda Gates, both of whom echoed the conferences' message on helping children, hid their legs, but showed off fit physiques in - you guessed it - black pants and tops.
At days end, as I marched out with the rest of the audience, we all marveled at what we'd learned. While others were fortified by the career and family advice we'd heard, I was fortified by the sartorial styling I'd observed. In the wardrobes of powerful women, the color Black is key. Yet, it's an intangible accessory: confidence and compassion that makes it chic.
FOLLOW HUFFPOST