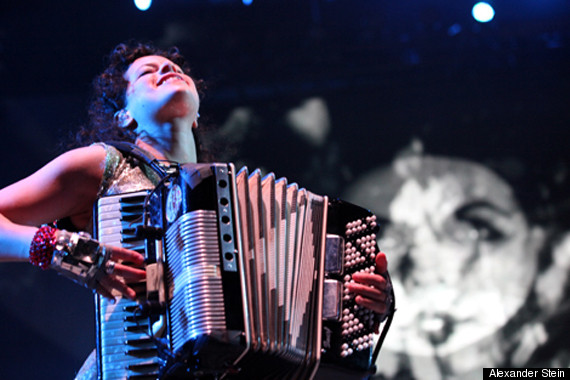 It's probably not helpful for me to say, "You guys, it was big." But, you guys? Arcade Fire at Madison Square Garden was huge. By the time they sang, "I went out into the night, I went out to pick a fight" halfway through their set, the filled out arena had forgotten that Arcade Fire aren't supposed to be playing such big venues and that Spoon aren't supposed to be openers. What seemed like an exercise in scale really wasn't -- Madison Square Garden could have been bigger and Arcade Fire still could have filled it with sound and fans and energy alike. They didn't even have to pick that fight, they owned it.
Spoon was one song into their hour long set when I got there. As I oriented myself to the towering space, the guy sitting next to me leaned in and asked, "Seems treacherous, doesn't it?"
He was right, it did. Especially for a band who make such consistently pleasant music so sweatlessly. Considered by some measures to be the artist of the decade, they played a lot of favorites (and there are a lot to chose from) during their sharp, hour long set. But the acoustics of the Garden weren't working in their favor, and the precision that makes their rock and roll so interesting -- the way they stop on a dime, the whoops that snap from nowhere -- was lost in the towering arena. Expertise and happy fans can't fill the monstrous space alone. Playing it cool apparently can't either.
Arcade Fire did the opposite, filling the arena with a wondrous and fevered volatility from the first to the last second. The nine members ran on stage (Régine Chassagne, in her glittering silver dress, more so pirouetted) and didn't stop moving until they had finished their set an hour and a half later. There was an endless swapping of instruments, swelling of sound, roaring of the rapturous crowd -- they were relentless.
The only notable lag came four of five songs in when they played several songs off their most recent, and most constrained, The Suburbs. The set list included a balanced mix from their three albums, material from Funeral winning the largest waves of rapture. The energy behind these songs has probably only grown since the album was released five years ago, but it's clear, they've been ready for this for a long while now.
"We've played almost every venue in the city," Win Butler joked at one point. But the calculation was futile, and all questions of scale forgotten. "By the time the first bombs fell/ We were already bored," they sing on "The Suburbs." They weren't ever ours to pit or wager, and they weren't there to fight. They were just there to play -- to play big.
Arcade Fire Set List:
Ready To Start
Laika
No Cars Go
Haiti
No Celebration
Rococo
The Suburbs
Crown of Love
Intervention
We Used To Wait
Power Out
Rebellion
Month of May
Tunnels
Keep The Car
Sprawl II
Wake Up

Owen Pallett, Spoon and Arcade Fire At Madison Square Garden