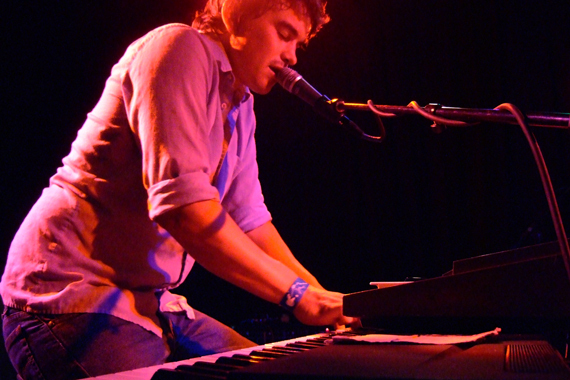 Huffington Post continues its local coverage with the help of our Citizen Journalism Unit. To join the local reporting team and receive advance assignments, click here /www.huffingtonpost.com/2010/01/19/join-the-huffington-post_n_428736.html> or apply to cover any of this week's events by clicking PARTICIPATE below.
Wolf Parade, Mools and Zola Jesus
Indie-rock band Wolf Parade returns to Terminal 5 with Tokyo-based Moools and the howling pop songs of Zola Jesus.
Small Black and Beach Fossils
Using words like "acousmatic, "concrete" and "tape music" to describe themselves, emerging Brooklyn-based band Small Black will show you what that combination means at their Mercury Lounge show, performing alongside recent-Southstreet-Seaport performers Beach Fossils.
Ryan Leslie
After graduating from Harvard at age 19 with a degree in Government, left his degree to the side in order to fully turn his attentions to producing. Breaking out by producing Cassie's 2005 hit, "Me & U", Leslie has spent a fair amount of time behind the mic since. His icy R&B is sure to hit the right way on a hot summer night.
Langhorne Slim
You might recognize Langhorne Slim's from his forays in advertising, but he's also a willing force in Brooklyn's alt-blue grass scene. On Thursday, he'll hold things down at the Brooklyn Bowl.
Caribou and Phantogram
Caribou's delightfully ticklish voice tiptoes behind sweetly psychedelic tunes. Take the ferry away from Manhattan for the afternoon and see him perform with dreamy synth-rock duo Phantogram at Governors Island.
Siren Music Festival
While nothing says summer like the sounds of Coney Island -- crashing waves, shrieking children, creaky roller-coasters -- there are few summer events we anticipate more. With multiple stages, plenty of fried food and gallons of beer to keep you nourished, you can't go wrong. This year, Brooklyn favorites Matt and Kim and Ted Leo will headline, but with the line-up like this years, it's hard to imagine anybody's really counting.
Who:Matt and Kim, Ted Leo and the Pharmacists, The Pains of Being Pure At Heart, Holy Fuck, Night Marchers, Surfer Blood, Harlem, Cymbals Eat Guitars, Earl Greyhound, Ponytail, Screaming Females, Wye Oak, DOM, Apache Beat
When: Saturday, July 17
Wanted: Writers, Photographers, Videographers. Please specify which band(s) you would like to cover when you sign up.
Where: Coney Island
siren.villagevoice.com
Raphael Saadiq, Aloe Blacc, and Special Guests
Songwriter, producer and performer Raphael Saadiq brings his soulful tunes to SummerStage, with hip-hop/R & B artist Aloe Blacc and others.
African Festival with Konono No. 1
Celebrate Brooklyn's annual African Festival brings together food and music as various acts perform throughout the day.
P.S. 1 Warm Up Series with Air France (DJ Set), Ratatat (DJ Set) and ARP (live)
P.S.1's infamous Warm Up series continues with its second event of the summer season, luring crowds to Long Island City for an afternoon of DJs, art and architecture.
Konono No.1 with Javelin, DJ Awesome Tapes from Africa, Just Wills and Professor DJ Rainstick (Cool Places Soundsystem)
Part world, part electornia, part undescribable, Congo-natives Konono No.1 continue their NYC weekend at le Poisson Rouge, performing with their a variety of fascinating instruments, alongside electro/hip hop duo Javelin and others.
JellyNYC Pool Party: Murder City Devils, Obits, Jeff the Brotherhood and Silverghost
This line-up is about as straight rock and roll as they come these days. We'd guess there will be more than a guitar riffs, some heavy drumming and more head banging than head bobbing.
SUBSCRIBE TO & FOLLOW THE MORNING EMAIL
The Morning Email helps you start your workday with everything you need to know: breaking news, entertainment and a dash of fun. Learn more