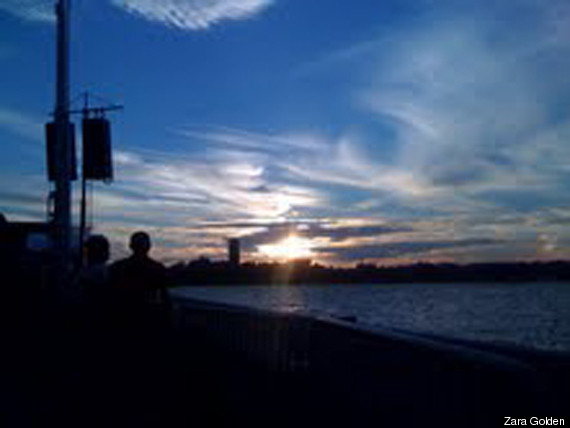 Just three songs into Dinosaur Feathers' set last night on Pier 54, a generator blew, leaving the stage dark and quiet. Dinosaur Feathers came back onto the stage to play a few more muffled songs -- in good nature, but sans drum machine -- while staff continued to assure the audience that they were going to have things back up in time for the headliners, The Antlers. I imagine this change of plans left the River Rocks crews scrambling, but as the sun set over the Hudson, just behind the stage, it was hard to share in their anxiety. And harder yet to imagine Peter Silberman, the man behind The Antlers, and one of 2009's most heartbreaking (if not brutal) albums, Hospice, was sweating much either.
A new generator was brought in, and all earlier confusion was forgotten by the time Silberman and his band -- Darby Cicci and drummer Michael Lerner, as well as an accompanying horn section -- took the stage, backed by a sky no more subtle than the band's sound. Most of their songs build quickly, beginning with teeny tiny guitar chords and piano lines that layer and grow larger as a lone voice meets a larger world -- a world that, on Hospice, seems to be collapsing inwards. "You had a new dream, it was more like a nightmare," rings the chorus on "Two", before warning: "You were just a little kid, and they cut your hair. They put you in the machine and you came so close to dying."
They played two new songs during their set last night, both sounding as intricate and impressive as the rest of the band's brief catalog. And while there is a certain excitement about new music from the Antlers, the real curiosity was as to how Silberman would navigate the stories off Hospice. Born from a period of personal trauma that led to a bout of social isolation, the album tells a vague but pained story of a relationship and loss. There are conversations with doctors and fights with loved ones, lines and instrumentals about dreams (or maybe nightmares). (The the liner notes are well worth a read) How many times can Silberman relive these evenings, conversations, feelings? How long until it's drained dry?
He addressed this danger with an unconcerned awareness, joking before an older song that, "You might have heard this for the first time, too, we are from New York." Nearly a year after Hospice's original release, things are beginning to sound, and feel, a bit different. It's almost as if, with his warmly received album and the audience along as a buffer, Silberman is able to open up further yet. What was delicate on the album, looms; and what felt sad and tender sparks with anger and energy live -- the markedly immense rawness remains. While his yelps and howls may not have made sense of much that night in the hospital, the apartment, the bed, they probably would have felt good. And they probably do now. The album's hospital-esque beeps and static replaced with a clapping kick drum heartbeat, what feels like careful coaxing on the album seems like full blown exorcism live -- angry and sad and relieving.
The dynamics of art as therapy change a bit when an artist is forced to relive a trauma again and again. But neither The Antlers nor the audience have grown bored with it; and watching Silberman and his band flail and wail last night, it seemed certain that this was just what the doctor called for. "We really love being home," he kept saying with a titanic sort of earnestly only found in the contentment that follows a brutal lesson survived and learned. "The hardest thing is never to repent for someone else," he sang on "Wake," "It's letting people in."
The Antlers - Two / Epilogue - A Take Away Show from La Blogotheque on Vimeo.
Follow Zara Golden on Twitter: www.twitter.com/zaragolden