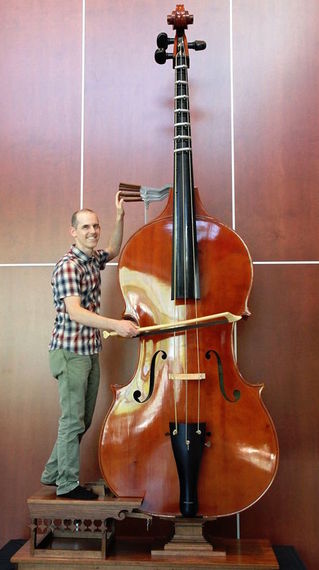 Double bassist Eric Chappel with Montreal Symphony's new octobass.
Photo: Montreal Symphony Orchestra
By Mark McLaren, ZEALnyc Editor in Chief, October 20, 2016
As classical music organizations tighten budgets, the Montreal Symphony has been spending like, well, a drunken orchestra. In 2011 it moved into a shiny new concert hall, a hall on design tables for decades. In 2014 it inaugurated a $4 million concert organ and this fall Montreal opened its season featuring its newly-formed Montreal Symphony Chorus. What's left?
An octobass, it seems. Today the Montreal Symphony makes history as the first orchestra in over 100 years to permanently add a new instrument to its ranks. The octobass, standing over twelve feet tall and 90% larger than a standard double bass, was first built in Paris in 1850 and can reach notes a full octave below the lowest of a standard piano. The instrument fell out of use at the turn of the twentieth century, but not before a number of French and German composers had adopted it.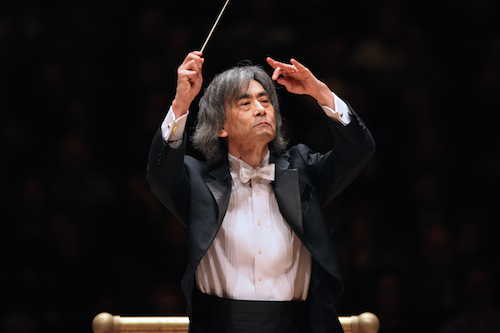 Maestro Kent Nagano; photo courtesy of Montreal Symphony
ZEALnyc speaks with Montreal Symphony's music director Kent Nagano about the octobass and its journey from concept to reality.
MM: It looks like your next big initiative, or what looks to be a big inititiave, is the introduction of the octobass.
KN: Well, it is a huge dream, it is something that I've been working on. I was provoked by one of my very scholarly contrabass players, who had been doing some independent scholarly research. He found out about the octobass and discovered that it was something that was not only a curiousity, but was something that was prominent in Hector Berlioz's time. It was present and used in romantic literature and in later-romantic literature, to the point where Hector Berlioz includes it in his treatise of orchestration.
We do quite a bit of historical research - quite a bit of scholastic study in conjunction with many members of the orchestra. So this contrabassist convinced me that we should look towards period performance practice. I became convinced through my colleague that it was important to experience what the octobass sounded like if one wants to get close to the performance practice of the time.
The problem, as you know, is that the octobass doesn't really exist. There is one main surviving one I think now, and a secondary surviving sample, and they are in museums. There is one running around that is being played, but it is privately owned. So it was nearly impossible to figure out how that could be done unless one commissioned a study and a replica to be made. And it was a very, very expensive endeavor.
And so we have been working on this project for seven years [laughs]. Finally, everything came together in a very quick way. A major sponsor, a friend of the orchestra, stepped forward fascinated by the venture. Our sponsor was equally curious as to what it would sound like, an instrument that apparently has a huge projection and is able, as a single instrument, to be felt and to be heard within the context of a very large romantic orchestra.
To make the story short, we succeeded, together with the help of this great philanthropist from the community, in securing an octobass for the orchestra which we will inagurate in October. And we didn't think it would be of particular interest to anyone, except to us in Montreal and Quebec. But surprisingly, a lot of people have suddenly become aware of what we are doing and also wants to hear what it will bring to the sonority of an orchestra - to try to understand what orchestras sounded like in the nineteenth century.
So, yes you're right, it is a major initiaive. We are inaguarating it with Ein Helden Leben by Richard Strauss, and plan to use it for most of the important romantic literature where octobass might have been used.
MM: And so those parts would be extrapolated...this would have been used across the board with romantic and late-romantic rep you are suggesting?
KN: Yes, it was meant to double the bass line, in a kind of ad libitum fashion. From what we have read, it was prominent in literature that was written from the 1850s up until the turn of the century. So, since Berlioz has written most about the octobass, we'll be applying it mostly for romantic French music. But we did want to try it out with Ein Helden Leben because apparently it did make its way to Germany as well.
MM; Fascinating. So, I think we were in Boston at the same time in the early 80's. And as we are talking about late-romantic literature, Seiji Ozawa is probably held up as a substantial conductor of that rep -- a proponate of that literature. Did that experience inform your interest in this period?
KN: Well, of course, the years of the Boston Symphony were very important years for me and formative years as well. But in terms of the octobass specifically, I would point to my Paris years with Olivier Messiaen. Through our work together, I spent an unusual amount of time at the Bibliotecque Nacional and at a lot of the research libraries in Paris. And I think that really wetted my appetite and curiosity for specific style and orchestra color; how that is linked with specific cultural traditions, and how a composer, in this case Olivier Messiaen, would use orchestration skills to try to bring out or highlight individual characteristics of his compositional voice. So that period in Paris when I was living there and doing quite a bit of library research, I would say that that had as much as anything to do with my fascination with this whole project. It really launched a never-ending curiousity to try to get closer and closer to what composers had in mind.
More information on Montreal Symphony Orchestra can be found here.
Mark McLaren, ZEALnyc's Editor in Chief, writes frequently on classical music and theater.
For all the news on New York City art and culture, visit ZEALnyc's Front Page.
SUBSCRIBE TO & FOLLOW CULTURE SHIFT
Every Friday, HuffPost's Culture Shift newsletter helps you figure out which books you should read, art you should check out, movies you should watch and music should listen to. Learn more