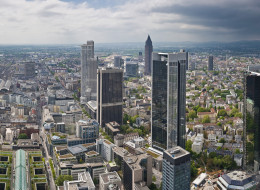 Frankfurt might be known as the financial capital of Europe, but veterans of (many) industries know the grey city on the Main river for another destination there: Messe Frankfurt, a state-owned, privately-helped company that puts on some very impressive trade shows, including the world's largest music (April), motor (September) and books (October) shows.
Each February (and again in August), Messe Frankfurt hosts Ambiente, the world's largest (seeing a trend here?) consumer goods and indoor trade fair. This winter's show featured 42 kilometers of aisles in 27 halls. Suffice to say, it is nearly impossible for this year's 140,000 visitors to see everything, which includes pots and pans, outdoor furniture, fabric and personal accessories, and a lot of dishes and dinnerware! But regular tradeshow-goers really appreciate its production value and perks, like seemingly endless coffee (cappuccino and espresso, this being Europe), flowing Champagne (the real stuff), impressive displays, unexpected guests and special performances -- civilized and even luxurious, two terms not typically synonymous with trade shows. Perhaps that's why they prefer the term "fair."
Frankfurt has hosted trade shows since 1240, when commodities like silk and spices were, well, traded. Twenty-five years ago, Messe Frankfurt saw the potential for growth outside of Europe and today it is the largest trade show organizer in Asia, with 600 employees in China alone. Last year they put on 109 trade fairs in more than 30 locations.
At a time when European countries are figuring out how to retain their cultural identities and boast their national pride, the show is remarkably un-German (except perhaps in its impressive organization!). This year, 75 percent of the exhibitors (4,500) total) and 50 percent of the buyers who attended Ambiente were from outside of Germany. By contrast, Salone del Mobile, the Italian home design show, which runs in April in Milan, requires Italian origins to exhibit in some areas.
Another measure of ensuring the show's continued success, and value among the design cognoscenti, is Talents, which showcases the work of young and emerging designers, selected by a small jury from a large pool of applicants in a variety of categories, whose travel and expenses is completely paid for. This year, there was one Talents section for dining and another for furniture.
Nicolette Naumann, Vice President of Consumer Goods Fair, Messe Frankfurt, says "This is a show about new function, not a trend show. It's a very commercial show, with a lot of buying power." Which actually makes it right at home in Frankfurt, after all.
Please don't call this a trade show
The opening night party had a French theme, complete with an Eiffel Tower model, berets and can-can dancers to highlight the French design portion of the fair. The venue, part of the Messe Frankfurt complex, has been host to the European MTV Awards.

Booths feature "amenities" as "luxurious" as... running water! While it might not sound like much, American tradeshow-goers will know this is a rarity. (It no doubt helps with the cocktail parties, in addition to preserving the sanity of the employees and salespeople who man the booths all day.) Here the "housing" of such behind-the-scenes necessities becomes its own eye-catching display.

Doors open at 9 a.m., and by 9:15, everyone was ready for another coffee. Being Europe, this is no grab 'n go deal, as you can see by the seated crowd in the cafe at the LSA booth.

Germany dinnerware experts Rosenthal created an enticing table setting with fresh flowers to complement the newest pattern that made everyone crave spring.

With its subdued lighting, Dibbern let their colorful china feel perfectly suited for a sophisticated dining room.

Turkish designer Defne Koz lets the shape of the dinnerware she designed for German brand 1440 Mitterteich speak for itself. The pure white booth amplified the wow.

Flowers no doubt draw the crowds to this indoor cafe, created by a Vietnamese florist based in Frankfurt. And yes, they're all real.

Did I mention dishes are everywhere? This was a display at the wall the Portugese brand Vista Alegre.

At this candle vendor, draped vines created a makeshift tropical enclosure, inspiring buyers and designers to think outside the box (even while inside of it)!

What better way to show off your glassware than to have buyers, designers and journalists drink from it? These glasses are ready for the evening's event.

Or at least a cleverly named presentation at which several hand-selected companies have the opportunity to tell the audience about their business and products.

Hardik Gandhi, a young designer based in Mumbai, shows off some of his colorful metal furniture in the Talents showcase.

The legendary French actress was the special guest of the show, which featured an exhibit on French design. Here she admires a display the porcelain that is synonymous with her country--at least in the design world.