The barbaric murder of Fenger honor roll student Derrion Albert compelled Michael Dolan and Brian Dinsmore, executive producers of A Plate Apart to develop a reality show that would highlight positive inner-city teens and offer them a ticket to a brighter future via the culinary arts.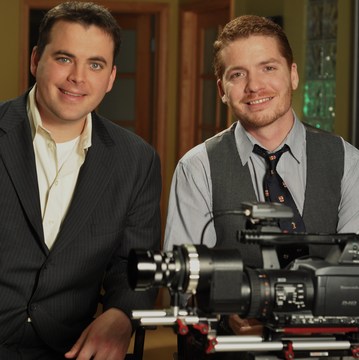 Brian Dinsmore and Michael Dolan
A Plate Apart is a one-hour cooking competition that features six Chicago Public Schools teens and their chef mentors.
"The great motivating factor [for A Plate Apart] was the Derrion Albert case," Brian tells me. "This was a situation that was out of control because of a lack of guidance and structure in these unfortunate kids' lives... and I needed to do something about it."
The show--now being shopped to the networks--takes six deserving high school students and pairs them with culinary mentors from Kendall College. These culinary mentors will help the students to carve out a better future, literally, as the students will compete for a paid apprenticeship at Michael Kornick's mk restaurant.
Gloria Hafer, (known for turning around at-risk students and placing them into culinary arts programs), supplied 30 Chicago Public Schools students to A Plate Apart. Of that group, the producers selected six. The audience will select the top student chef via an app for mobile devices and an online poll, and one student chef will receive the $25,000 culinary scholarship.
Hafer and Addictions Psychotherapist Taylorr Taylor are involved with the program; mk's Executive Chef, Erick Williams, hosts the show.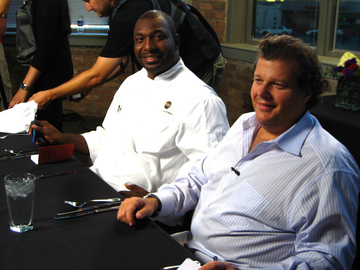 mk Executive Chef Erick Williams and Michael Kornick of mk restaurant.
"We didn't want to have to go out and create new characters," Michael states. "As lifelong Chicagoans, what we wanted to do was take the people who were already trying to change kids' lives, and put a spotlight on them. We created the dynamic and the competition angle to support that."
Brian says that they also wanted to show the good kids that were trying to do something positive with their lives--but were handed a raw deal. Rarely do you hear about those kids, he argues.
"A lot of kids are making the right decisions," Brian states. "But the things that are getting all of the attention--gangbanging or shooting people up--those are the things that are, unfortunately, making the news. What we want to do is promote a positive aspect and give people the opportunity to see that there are people like Gloria Hayfer, Taylorr Taylor, and Erick Williams that care, and are also involved in things like restaurants and churches and schools, and are giving back."
Don't get it twisted, this is reality TV, and with the competition element, there will be enough drama and suspense to satisfy your appetite.
And the kids on the show are not the glamorized thugs, but they have tales, and their riveting back-stories are served up raw.
"As we started talking to these kids, they didn't have a lot of people in their world that were willing to take an interest in them in the level that we were," Michael says.
"And as a result of that, they began to open up and feel comfortable with us in a way that we could have never fully expected. The level of involvement that the kids have brought to this program has been extraordinary and the level of disclosure and honesty that they have given us truly sets this program apart, as to how they relate to the audience and more important, how the audience relates back to them."
In screenings, the audiences bonded with the youths immediately, Michael adds: "People have come up to us directly following the credits and asked, 'who do I write this check to?'" he gushes. "And we're directing them to Gloria Hayfer, and her programs, so that the money is effectively donated."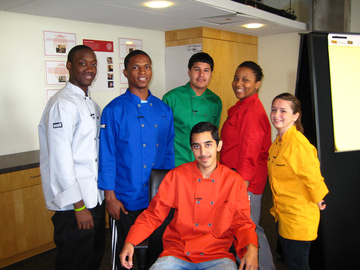 An escape from poverty via the culinary arts makes good business sense in this reality TV series, and in real life, as the hospitality industry needs youth workers, according to Taylor Business Institute Workforce Training to Careers Executive Director John Moultrie.
"With the hospitality industry's growth rate increasing, the importance of finding good employees, especially youth workers, is a high priority," Moultrie says.
"Historically, the hospitality industry has drawn heavily from the youth labor pool to meet their workforce needs, but in recent years, the industry has been left with an insufficient pipeline of new workers to satisfy demand. Faced with a shrinking pipeline of workers, the hospitality industry is increasing its recruitment efforts towards youth and developing targeted strategies for previously untapped labor pools."
As a foodie who holds a soft spot for anyone that can rattle a pot and pan, I must confess that I want this show to happen, in a very big way.
The disenfranchised youths deserve it, and producers Brian and Michael deserve it as well.
Note: Photos by Tim Hara courtesy A Plate Apart producers.
This Blogger's Books and Other Items from...
FOLLOW HUFFPOST