Earlier this month musicians such as Heart, Randy Newman, Public Enemy, Rush, Lou Adler and Quincy Johns were inducted in to the 28th Annual Rock and Roll Hall of Fame.
The star studded event, held at The Nokia Theater in downtown Los Angeles, also included various presenters and performers, such as Usher, Christina Aguilera, John Mayer, Spike Lee, Carole King and more.
But while the front of house was buzzing with big names and heartfelt speeches, backstage was also a must-stop. That's because of On 3 Productions' I Can't Believe It's Not Butter!® "Breakfast After Dark" Gift Lounge held April 18 and 19, backstage during induction ceremony:
Celebs like Cindy Crawford, Destiny Child's Michelle Williams, Questlove and Jack Osbourne picked up gift certificates for New Balance Custom US574 sneakers, giving them the opportunity to design their own shoes, right down to the material and color options.
Additionally, New Balance displayed Custom US574 sneakers that were inspired by each inductee's musical accomplishments.
Rumer Willis and boyfriend Jayson Blair with New Balance
Those excited to receive TiVo's Premiere 4 DVR and TiVo Stream were Williams, who said she'd be recording her favorite TV show, "Scandal," and Rumer Willis, whose go-to show is Netflix's "House of Cards."
The TiVo Premiere 4 DVR records up to four shows at once and the streaming service allows viewers to watch content on multiple devices at home, or on the road. Each celeb also received a lifetime service subscription from TiVo.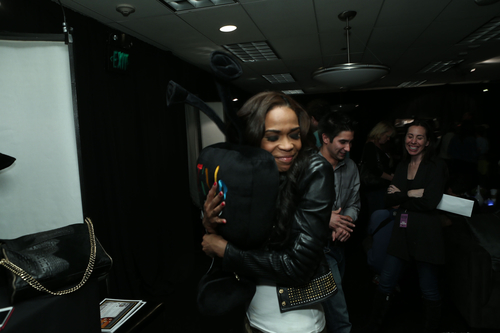 Michelle Williams hugging the TiVo doll
Custom in-ear monitors from Ultimate Ears, specifically designed for industry pros and discerning musicians were especially exciting for Williams and Darryl McDaniels of hip-hop group Run-D.M.C.
McDaniels was one of the night's special performers, getting up on stage with Public Enemy, who were inducted at the RRHF Induction Ceremony.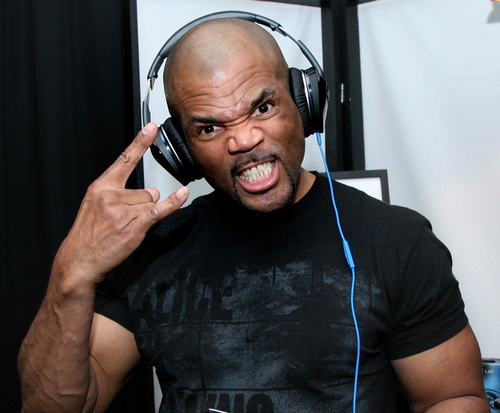 Darryl McDaniels with Ultimate Ears
Cheech Marin and Tommy Chong picked up watches from Aquaswiss, both selecting the color green. The company debuted their latest collections - the Aquaswiss Automatic Vessel and Tanc.
Inductees Ann and Nancy Wilson of Heart picked up PHYTO products and gift card to the Fred Segal Salon Blow Dry Loungy by PHYTO Santa Monica, as did sultry songstress Grace Potter.
The Foo Fighters Dave Grohl and Taylor Hawkins also made an appearance at the suite. Among the items Hawkins was able to scoop up included skin products from Murad, a one-year membership to Crunch gym, jeans from Cult of Individuality and Hasbro Games World Series of Yahtzee.
Other attendees included Jennifer Hudson, Chelsea Handler and Colin Hanks among others.
The suite's sponsor, I Can't Believe It's Not Butter!, gifted high tech digital recipe readers and products to help stars cook up their favorite "after dark dishes" - a suite favorite for restaurateur and Real Housewives of Beverly Hills star Lisa Vanderpump.
ICBINB was asking talent what they like to do after dark...or where they like to eat breakfast after dark. Grohl said he liked to "drink wine and listen to Rush after dark" while Crawford chimed in that she prefers to "cuddle with my hubby after dark." Osbourne revealed a little bit too much information: "I play video games in my undies - shh - after dark!"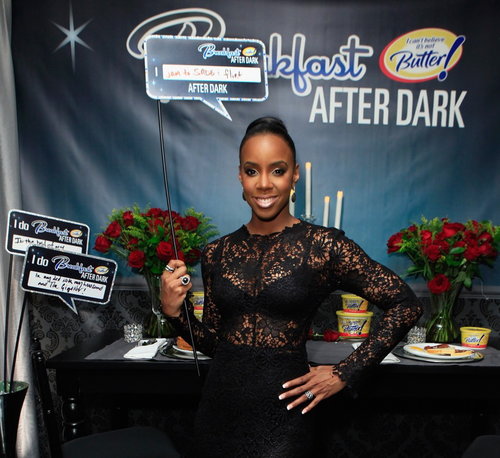 Kelly Rowland at I Can't Believe It's Not Butter!
SUBSCRIBE AND FOLLOW
Get top stories and blog posts emailed to me each day. Newsletters may offer personalized content or advertisements.
Learn more