Thirty-five years is not a long time in the champagne making business, especially when you look at brands such Moet & Chandon, which was founded in 1743, or Veuve Clicquot, which is 239 years old.
Yet 35 is exactly how old Champagne Nicolas Feuillatte turns this year, making it one of the youngest brands on the market. As the baby of the bunch, it has youth and vitality on its side and quickly established itself as the favored choice among the hip and the cool. Those aspiring to that image joined in and during its short time on the market, Nicolas Feuillatte has risen to become the number one selling brand of champagne in France.
Today, it is one of the best selling brands in the world, taking the number three position behind Moet and Veuve in worldwide sales. In fact, the U.K. is Feuillatte's number one export market, followed by the U.S.
You can bet that U.S. domination is very much on Feuillatte's mind these days, where it sits in fifth position, behind Moet, Veuve, Perrier Jouet and Piper Heidsieck. Refusing to rest on its laurels even as it celebrates its 35th year, the company is already planning anniversary parties in New York and in Los Angeles to be held this fall.
Recently, Champagne Nicolas Feuillatte selected a group of eight journalists from the States, myself included, and flew them to France for the 35th anniversary party at the Maison de l'Architecture in Paris and to visit the company's champagne making winery near Epernay, a town in Champagne region of the French countryside.
The trip was a learning experience to say the least. Over the course of a few days I quickly became an expert on brand that I previously knew very little about.
Just like there really did exist a monk by the name of Dom Pierre Perignon, for whom the prestigious cuvee of Moet & Chandon is named after, there really is a Nicolas Feuillatte. In fact, he is alive and well at 85 years old and was there at the Paris anniversary party, celebrating with roughly 500 by-invitation-only guests.
Nicolas Feuillatte Champagne 35th Anniversay party at the Maison de l'Architecture in Paris
The Feuillatte bottles bear a cursive signature with tag line "Epernay -- New York -- Beyond." The reference to Epernay is obvious, but New York happened to be very important to Feuillatte. A jet-setter and a fixture on social circuits, he lived in New York where he launched his career as an importer of coffee and counted the Kennedys and the Onassis' as part of his circle of friends.
When his family inherited a vineyard back home, Feuillatte decided to start a brand of champagne in his own name as a fun side gig. He targeted his inaugural "Reserve Particuliere" (today known as the 'blue label') to his American circle of friends including Jackie Onassis, Shirley Maclaine, Sophia Loren and Lauren Bacall. In 1978 the champagne was even served in the White House.
In 1986 he sold the brand to the Centre Vinicole de la Champagne in Epernay, which handles the production while Feuillatte himself remains the international ambassador, handling external relations.
With 18 different bottles -- only nine of which are available in the U.S. at this time -- the company's success has reached a point where 8 million bottles were sold in 2010.
A huge supporter of the arts, the company has devoted itself to help emerging artists. Every year since 1999, Feuillatte selects an "Artist of the Year" and commissions him or her to create a piece of work for the brand. This year, the prestigious title was bestowed on Julien Taylor, former student of physics who became a photographer working with animation.
Taylor -- who coincidentally also turns 35 this year -- created "Boom!" a photograph of a party in an apartment that is viewed from above. A champagne cork has just been popped, with each character focusing up towards it -- which happens to be the exact spot from where the viewer is observing the scene. Thus, the viewer becomes an additional person at the party.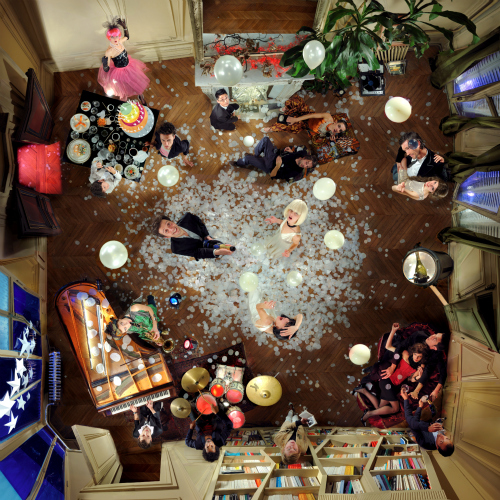 To create "Boom!," Taylor first shot every last detail of the apartment (without people in it) mixing reality and fiction. The cake is made out of cardboard, but the furniture is real. He shot the six different party scenes separately before putting them together. Then he used the same female actress to play all the girl roles. All the males are different actors and Taylor himself is the man at the piano. The result is a single photograph that can be viewed from any angle.
Feuillatte's hipness doesn't stop there. Last year, it launched an iPhone app complete with a "mobile toast" where the user can pop a bottle of Champagne Nicolas Feuillatte and pour it in to a friend's virtual flute.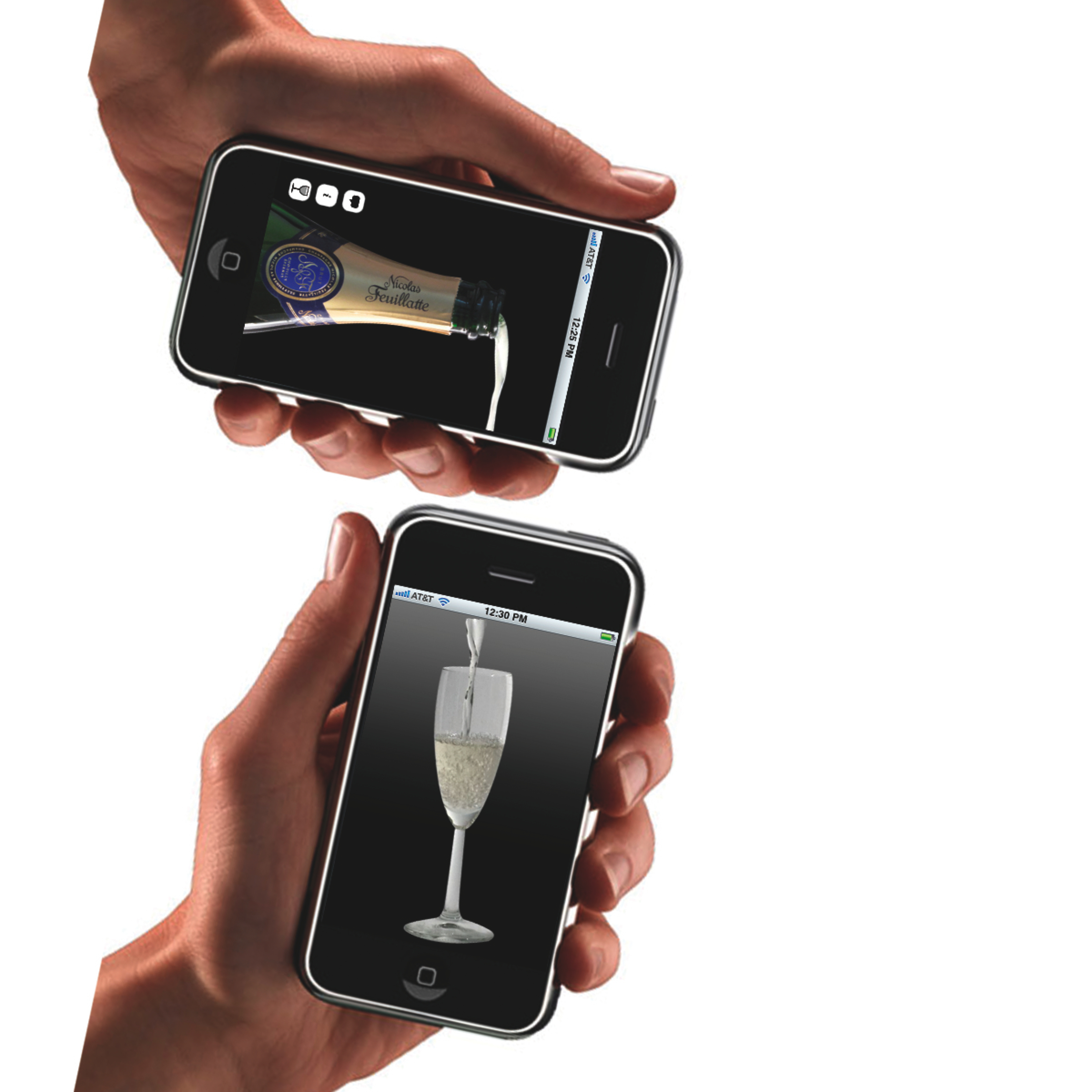 At least if you can't drink a glass of champagne physically with someone special, you can do it virtually with the app any time, anywhere and as much as you want without consequences! After all, it's always a good time to pop open a bottle, in the flesh or otherwise. To paraphrase Napoleon Bonaparte -- we drink champagne to celebrate the wins... and we drink champagne to console ourselves of the losses.