Paul is a comedy adventure film about two British sci-fi geeks (Simon Pegg and Nick Frost) who stumble across an alien (voiced by Seth Rogen) while on a road trip across America's U.F.O. heartland. Released in March, the film is perhaps one of the most underrated comedies of the year.
On August 9, Paul comes out on DVD and Blu-ray combo pack with plenty of added features. Besides the theatrical and unrated versions, bloopers and cast interviews, there are plenty of bonus features including featurettes like "The Evolution of Paul" -- how the filmmakers created Paul into a living, breathing character and "Who the Hell is Adam Shadowchild?" which explores the sci-fi writer character in the film played by Jeffrey Tambor.
Additionally the Blu-ray has several exclusive features such as the cast -- which also includes
Kristin Wiig, Bill Hader and Jason Bateman among numerous others -- joining together for an impromptu musical of the film.
Recently, over an intimate dinner at the Redbury Hotel in Hollywood, the film's star and co-writer Simon Pegg, along with the film's director Greg Mottola, sat down with a select group of journalists -- including myself -- to talk about the film.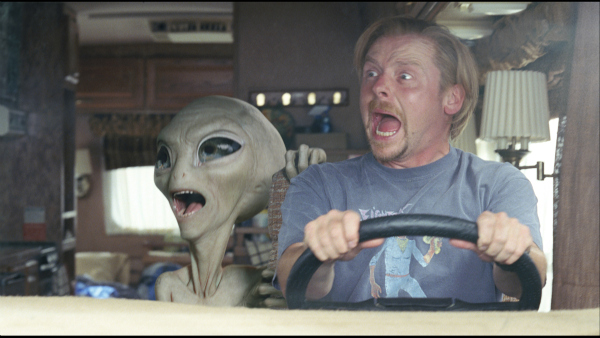 On the genesis of the film:
Simon Pegg: We had to redo the record-throwing scene in Shaun of the Dead because the weather was so bad. (Producer) Nira (Park) said, "Why can't we make a film somewhere where it doesn't rain?'" And Nick and I were like: "Sure, okay: There are two guys, in the desert and there's a alien and he's a normal guy and he's really friendly and his name is Paul." It was a joke pitch. If had thought about it a bit more, we would have called it something like, Rex or Fido because he lands on a dog in movie in that first scene. But we said Paul in that first pitch so we were stuck. Our original pitch for Paul was Little Miss Sunshine with Gollum in it. A kind of indie road movie feel but in it would be this insanely impressive special effect.
On their research prior to shooting the film:
Simon Pegg: There was a provision in the budget for a road trip. Nick and I thought: FREE HOLIDAY!!! We took off on this trip from L.A. to Denver via all the places we go in the film. We went to Las Vegas, then we drove out through Nevada, Area 51, Utah in to Wyoming to Devil's Tower. We had this unit driver who could drive this beast of an RV. We went off on this trip and thought, "We'll write this film, it'll inspire us, we'll be on the road." But we realized really quickly that we had to just look out the window and just watch America go by, and drink it in and take loads and loads of photographs and try to create... a sense of what we were writing about. A lot of what we experienced on that trip we put in to the film -- the bird hitting the window, the meatheads in the diner, not the alien, obviously. I am astounded to think that we could have ever written it without doing that trip. It was so valuable.
On using computer-generated animation vs. puppetry to create the alien Paul:
Greg Motolla: In a perfect world, we probably would have made this a much lower budget film for various reasons. The reality of doing an alien today was -- do we make him a puppet and save a lot of money, or do we make it CG and try to make it a funny CG character? Once we made him CG, the cost of making him CG became one third of our budget. When you take Paul out, we're not much bigger than the budget for (Mottola's 2007 film) Superbad. We felt that was a challenge. I don't know how you could have made such a fast-talking wise-cracking alien who is puppeteered that the audience would accept.

Simon Pegg: People demand so much from reality. Think how much we used to dispel our disbelief as kids. When we first saw the Cantina sequence in Star Wars -- you look at it now and some of those masks are pretty ropey. But they were certainly not in the day. They were amazing and fantastic. But any kind of artificiality we detected (back then) we just let it go because we were prepared to meet them in the middle. We're not now. If CG doesn't look absolutely fucking super real, we say it's rubbish. Any moment of artificiality and we fold our arms and say: "No good, sorry, that's just not good enough."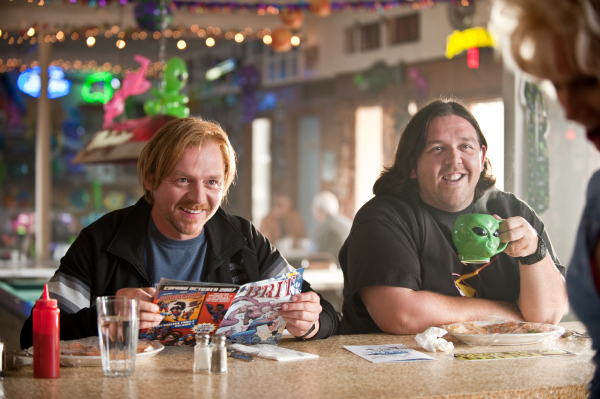 On asking Steven Spielberg to play himself in the movie:
(During production on Tintin, where Pegg plays Inspector Thompson) I showed him a picture on my phone of an alien bust that Nick and I had taken on our road trip -- a picture of an alien I had taken next to Devil's Tower. Steven was at the video monitor and I put my phone in front of his face, and it had the alien with Devil's Tower behind it. I left it in his peripheral vision. He went, "What the fuck is that?" The last time he'd seen an alien at Devil's Tower was in 1978 when he was shooting Close Encounters. We went, "Well, Steve, we're making this movie and it's about this alien and we have this idea that maybe over the years you've had creative meetings with him and he's helped you figure out some stuff." He was like, "Oh, that's great, that's great. I love that. That's really funny. Maybe I could phone up or something in the film?" And Nick and I went, "What?!?" He suggested it. I sort of went (mimics sprinting away, typing on computer keys, sprinting back) -- and gave him the scene. Just after the release I got an email from him saying he really enjoyed the movie. He said some lovely stuff. It was like every boy's dream email.
Simon Pegg: Making Paul was so much fun. I got to work with amazing people in an amazing place. It was life-changing, wonderful and I'd love to do that again. It was very romantic -- we were away from home, (my wife) had a baby during (production), we made great new friends. I know artistically that's not a reason to make a film -- to hang out with people. But if you can do both, it's great. So if we could think of a story that was absolutely justifiable, that was worth doing, I would do it again, so I could have that experience again, so I could work with those people, and the camaraderie, the friendships.
People often forget there is a process that exists in filmmaking. It isn't just the product. The process is incredibly enjoyable. The product is the result of that and that's what everybody sees but it's not always why you do it. So the chance to actually work with those people again would be wonderful. Nick and I had this idea on the way to Area 51 that was really funny. It would cost an absolute fucking fortune if it involved more than one Paul. That would mean that we would have to have twice that budget. The idea was that it was called Pauls. Again, it was like, that title is so good, we have to make that film.

FOLLOW HUFFPOST