Forget those same ol' same ol' hotel spots you frequent. If you're planning a trip to The Republic of Panama, there's a new hotel on the block - the Westin Playa Bonita - which opened its doors last month.
In this southernmost country in Central America, the Westin Playa Bonita happens to be the first Westin to open in Panama.
Having had it's official grand opening just a few weeks ago, the Hotel is located just 20 minutes outside Panama City, with the pristine beaches of Playa Bonita on one side and the Punta Bruja Nature Reserve on the other.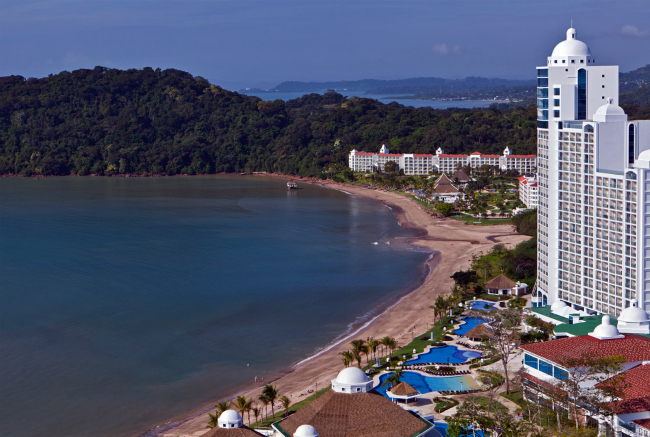 This $100 million beach hotel has six restaurants, three freshwater pools, four bars, 611 luxury rooms, and an open-air VIP lounge on the 19th floor with views of the Pacific Ocean, rainforest and Panama Canal. There is also a 62,0000 square foot meeting and event space - the largest meeting space in Central America.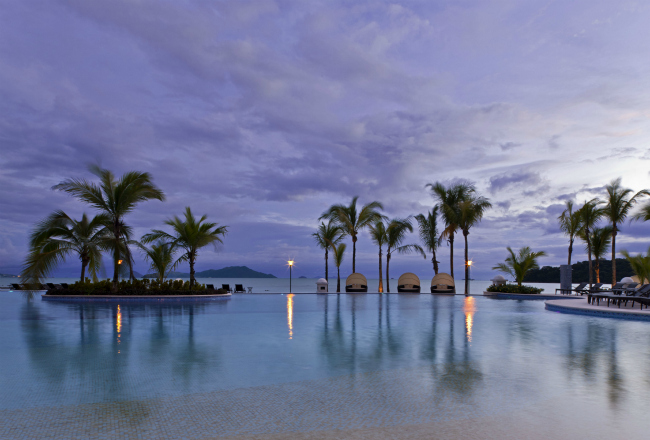 The Westin Playa Bonita's infinity pool.
"The unveiling of Panamá's first Westin hotel is one of the most exciting developments the destination has seen in decades; one that is sure to redefine the country's travel industry," stated Herman Bern, President of Bern Hotels and Resorts. "The Westin Playa Bonita offers an exclusive luxury experience, which truly captures Panamá's natural beauty and modern appeal. Featuring top-of-the-line accommodations and cutting edge amenities in the beautiful up-and-coming destination of Panamá, The Westin Playa Bonita will cater to a wide range of sophisticated international guests, whether they're traveling for business or pleasure."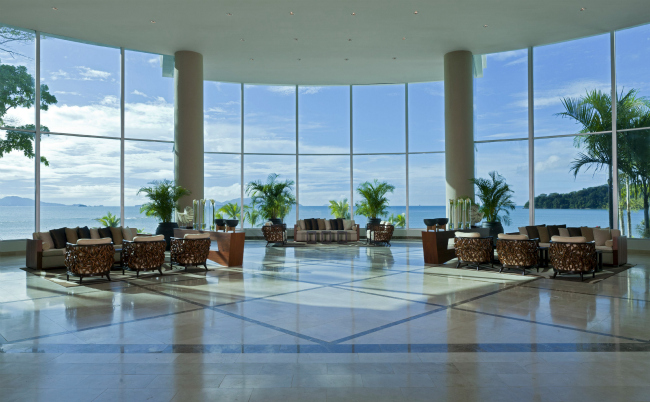 The lobby of the Westin Playa Bonita.
"We are delighted to launch our first Westin Resort in Panama, a destination that is seeing significant growth in both the tourism and business sectors," said Osvaldo Librizzi, president of Starwood Hotels & Resorts, Latin America. "The Westin Playa Bonita is a magnificent hotel and we are proud to have it join our portfolio of hotels in Panama. The hotel will feature Westin's signature offerings and services which global travelers have come to expect and enjoy, and the opening of the Westin Playa Bonita will give travelers and Starwood Preferred Guests another perfect resort destination to discover and enjoy in the diverse country of Panama," he added.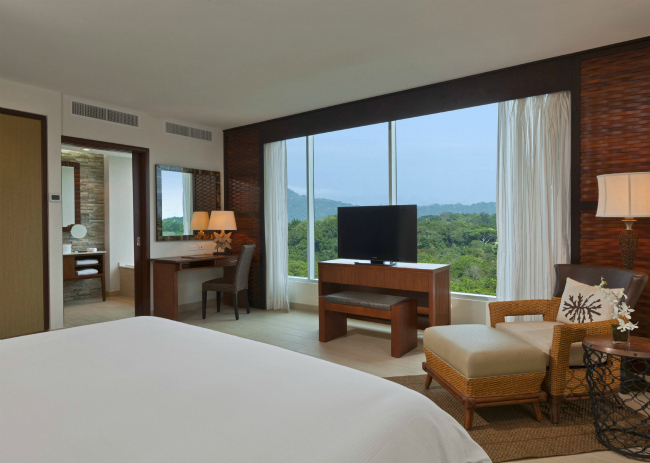 A view of the rainforest from one of the hotel's rooms. The hotel's location is located in close proximity to plenty of off-site attractions including the Panama Canal, "old town" Casco Viejo and Anton Valley, a town built inside a crater of a dormant volcano that's home to 500 species of birds as well as the rare and endangered Golden Frog.
Recently, the Westin Playa Bonita held its grand opening party with fireworks, live music, dancers and an open bar, an occasion, which drew about 3400 visitors. Check out the party pics below.