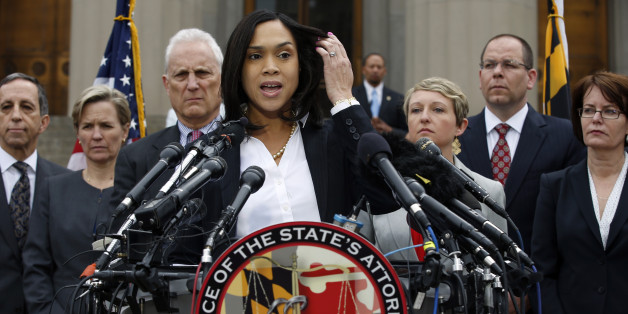 In Baltimore, we witnessed yet another black victim of police brutality. This time it was Freddie Gray, joining a long list of deaths we've heard about, and ones we haven't. It pains me that there are a handful of unscrupulous cops, among the thousands of upstanding officers, who turn to excessive violence when engaging with citizenry.
Nonetheless, the ray of hope is that State's Attorney Marilyn Mosby charged the six officers accused of pummeling Gray's spine, and a grand jury chose to indict. Mosby did not cave in to political pressure, in stark contrast to former Staten Island DA and newly minted congressman Dan Donovan. As I discussed the other day, Donovan seemingly let Officer Daniel Pantaleo off the hook for Eric Garner's murder because of his longstanding political support from the law enforcement worker unions.
Mosby's courageous decision to prosecute makes her just one of the many black women over the decades who have worked hard to quell the scourge of police brutality. Black women have played a substantial role in bringing national and international attention to the issue, both in the past and today. However, the news media and history books have not done a good job recording all the contributions by so many black women. (In fact, there are so many that I cannot do them all justice in a blog post, so I apologize in advance for some glaring omissions.)
In 1960, Patricia Stephens Due drew national attention to police brutality and the unjust legal system in Florida, a southern state that folks don't usually associate with Jim Crow. While a student at Florida A&M University, Stephens Due was arrested for taking part in a peaceful sit-in at a Tallahassee Woolworth's. After being released, she joined her fellow students in a peaceful march to protest the arrest, during which a police officer threw a teargas canister at her face. Stephens Due suffered permanent eye damage that resulted in her wearing sunglasses at all times for the rest of her life, giving her and anyone who saw her a reminder of the consequences of police brutality.
After she and the other participants were convicted on multiple counts for the sit-in, Stephens Due became a pioneer of the "jail-in": She and some of the others convicted opted to serve a 49-day jail sentence instead of paying a fine. The incarcerated protesters gained national attention, and received support from civil rights leaders including James Baldwin, Eleanor Roosevelt and Harry Belafonte (my father's dear friend). Jackie Robinson even mailed them diaries so they could record the experience. Martin Luther King, Jr. sent them a telegram offering his support. Besides the prominent activists, ordinary folks came daily to the jail to express their support, until visitors were banned.
Stephens Due would go on to co-write with her daughter a book about her experience, Freedom in the Family. She also discussed it in a 2011 talk.
Patricia Stephens Due was hardly the only female civil rights activist to be the victim of police brutality. The civil rights icon Fannie Lou Hamer also experienced it firsthand, and publicized it to the world. In 1963, while riding a bus home from a voter education workshop, she was arrested when the bus stopped in Winona, Mississippi. An officer violently put her in a squad car and took her to jail. After being called racial epithets, she was placed in a cell where the police forced two black prisoners to beat her. Hamer recounted her story in multiple speeches, including at the 1964 Democratic National Convention, when she famously showed up as part of the Mississippi Freedom Democratic Party delegation:
When I went to get in the [patrol] car, when the man told me I was under arrest, he kicked me.

I was carried to the county jail and put in the booking room...[a State Highway Patrolman] said, 'We are going to make you wish you was dead.'

I was carried out of that cell into another cell where they had two Negro prisoners. The State Highway Patrolmen ordered the first Negro to take the blackjack.

...I laid on my face and the first Negro began to beat...After the first Negro had beat until he was exhausted, the State Highway Patrolman ordered the second Negro to take the blackjack... I began to scream and one white man got up and began to beat me in my head and tell me to hush.
The speech drew major media coverage. Hamer would go on to deliver similar speeches across the country, including one at a Mississippi church, which was burned to the ground later that evening, and again in Harlem with Malcolm X.
Black women also publicized the issue of police brutality when they were savagely beaten on Bloody Sunday during the Selma to Montgomery March. The "police" force, which included a number of civilians deputized that day, used nightsticks and tear gas on the marchers. March organizer Hosea Williams said, "I fought in World War II and I once was captured by the German army, and I want to tell you that the Germans never were as inhuman as the state troopers of Alabama."
Among the victims that day was one of the march organizers, Amelia Boynton (now Amelia Boynton Robinson), who was beaten unconscious. Photographs of men helping an unconscious Boynton would end up published in national and international press. Boynton's image helped galvanize the passage of the Voting Rights Act, and she attended the White House ceremony where Lyndon B. Johnson signed it into law. Additionally, the FBI immediately began an investigation of the event, and concluded the police used excessive force. The investigation even specifically cited Boynton.
Boynton Robinson, who is still alive, joined President Obama in Selma this year to mark the 50th anniversary of the march.
Other female activists were also on the receiving end of police brutality that day. Marie Foster was beaten while lying on the ground, and had tear gas thrown at her, as she recounted in an interview with UPI. Also at the march was Clara Luper, who was clubbed in the knee. And Sheyann Webb, who at age 8 was the youngest marcher that day, managed to avoid a physical beating but suffered an emotional one. Webb later recounted her story in the book Selma, Lord, Selma.
Other black women in the Civil Rights Era publicized police brutality in a form other than recounting personal beatings. Instead, some did so with song. In 1962, SNCC formed the Freedom Singers, a gospel vocal group that for most of its history was comprised of two women and two men: Bernice Johnson, Rutha Mae Harris, Cordell Reagon and Charles Neblett. Through song, the group told stories of police brutality and other struggles of the movement, generally by putting new lyrics to existing spirituals.
Another activist who used song was world-renowned singer Nina Simone. She was so incensed with violence and inequality in the south that in 1964 she released the bluntly-titled protest song "Mississippi Goddam" to express her frustration. She would go on to sing it live at the conclusion of the Selma march. Simone later said she felt the song permanently hurt her career.
It's thanks in part to these female trailblazers that the scourge of police brutality became widely known to the nation and world. Their work for freedom and equality helped pave the way for future generations of black women combating police brutality. In addition to Marilyn Mosby, there are other elected officials such as California Attorney General Kamala Harris, New York City Public Advocate Letitia James, and just about every congresswoman of color, to name but a few.
And of course, today's generation of black women fighting police brutality is hardly limited to elected officials: there are also the numerous grassroots activists. That includes my friend Hazel Dukes, president of the New York State chapter of the NAACP, who works tirelessly to create a fairer criminal justice system. One high profile example was the 2012 Silent March Against Stop-and-Frisk that she organized with my office and others, which brought mainstream attention to this unjust police practice. This month, Mayor de Blasio himself called the march the start of "an extraordinary movement...which I was very honored to participate in with my family."
Another activist working hard today is Michelle Alexander, whose book The New Jim Crow has exposed how today's codified laws and policies continue to oppress people of color. Recently, she spoke out against the conditions in Baltimore and the need to organize against police brutality.
Tragically, a number of black women today only became involved in the anti-police brutality movement after having lost a loved one, in most cases their own children. There are the high profile ones, such as Michael Brown's mother Lesley McSpadden, and Eric Garner's mother Gwen Carr (who won an award named for my father). Unfortunately, there are far too many more, enough to constitute a whole group, Mothers Against Police Brutality.
The black women I talked about above are only some of the many who have contributed to the civil rights movement and the fight against police brutality. They may not all be household names, but they played an important role just like their male counterparts. One step in this continued push to end police brutality is Marilyn Mosby's prosecution of these Baltimore officers. But there is a still a whole lot of work to be done, by women and men both.