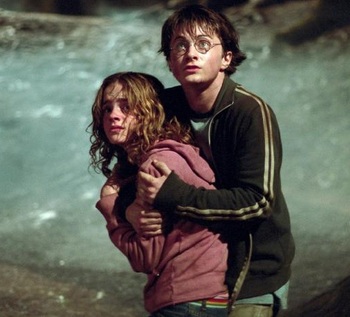 If you're reading this page at all, you probably would have assumed I'd be halfway through Harry right now, lined up in glasses and a lightning-bolt scar at 12:01 am this morning to get my copy of Deathly Hallows and re-enter my beloved Hogwarts world. Alas, a few crushing deadlines loom and if I buy Harry, I will be LOST. So I am holding out, for as long as I can, or at least until I can rationalize that it's totally okay to buy a copy to read in the back of cabs, on subways, while walking from point A to B (it's a talent I have, though back in Toronto I used to get an overhanging branch in the face every so often), and over dinner as a replacement for actual conversation. But there is also another reason for putting Harry off right now: I sort of don't want to know.
Two years ago, on the Friday night of Harry's release, I stayed home and
blogged about it
. Yeah, I'm a geek. But I wanted to get my predictions in print before reading the book, not that it was hard to figure out that [
INTERCEPTED BY CENSORS
]
Dracoy Malfoy, Severus Snape, Albus Dumbledore
. I reread that post last night, and here's what caught me at the end:
I'm really excited to read this book and find out what happens, but knowing that a certain amount of darkness awaits gives me a bit of pause. I haven't really thought all that much about Harry & Co. since I read "Phoenix" two years ago, but writing this has made the characters come alive again in my brain and it's been kind of fun. And until I read the book, they'll stay exactly the same. No one will grow up and no one will be dead, and my Harry Potter universe will remain as it's comfortably been for two years. But as soon as I read the book that will change, and I can feel myself resisting that, mostly because I know it won't all be good.
This year, add one more thing: It will be final. So far, book after book, the plot has twisted and wound its way toward an inevitable, vision-J.K. Rowling-had-on-a-train conclusion, sure — but there has always been more. There has always been a question as to what would happen, and the safety of having that Harry Potter universe intact for at least two more years. This time, that's it. Rebecca Traister hit on that in Salon before the Sopranos finale, noting that "closure" also means suddenly losing a constant that has been a source of joy for the better part of a decade (I discovered Harry in 2000 with the tipping-point release of Goblet of Fire). In all the whirl of planning the impromptu page and being indignant at the New York Times, I didn't have time to realize that. But last night, with the option to duck out on friends for half an hour to the bookstore, I found I didn't want to, didn't need to just yet. Today, I know no more about Harry Potter than I did yesterday, and that's sort of all right with me.
For now.