Fire in Lower Manhattan: The 40-story Deustche Bank building is on fire, sending billows of smoke into the sky over Ground Zero. The building has been empty since 9/11, destabilized beyond repair by the events of that day and awaiting demolition for years — a process that finally began recently, on a floor-by-floor basis, according to this AP report. The cause of the fire is, so far, unknown.
Here's some background on the building:
The 130 Liberty Street structure is a forty (40) story, 1.4 million square foot office building which has been determined to be badly contaminated with asbestos, lead, mercury, dioxins, pcbs and World Trade Center dust and which, as a result, according to LMDC, must be removed down to the top of its foundation walls. The removal must include disposal of all interior walls, stairs, ceilings, floor coverings, mechanical, electrical and plumbing items, exterior skin, superstructure concrete and structural steel.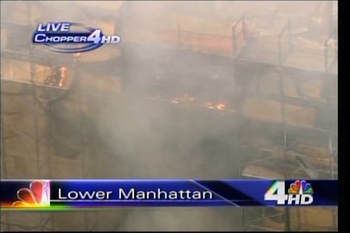 Who had the story first: As far as I am aware, 1010 Wins, because that's where my tipster first heard it, and reported it to me at 5:03 p.m. I surfed between NY1, Fox, CNN and MSNBC (and Google) to no avail for the next 20 minutes, when I found it on Fox at 5:23 pm. CNN had a newsbreak at 5:30 that was focused on Hurricane Dean (but picked it up as an i-report shortly thereafter); NY1, too, had it shortly after 5:30; MSNBC has kept to its pre-packaged "MSNBC Reports."
Update, 5:56:
NY1 reports that some emergency first-reponders may be injured; scaffolding is aflame and falling. In the break between "MSNBC Reports" and "Predator Raw: The Unseen Tapes" there was nothing. Oh, MSNBC.
Update, 6:00 pm: Bad news: NBC News Channel 4 reports that two NYC firefighters have been critically injured fighting the blaze and have gone into cardiac arrest; "there is the possibility that other firefighters will have to be de-conaminated after fighting this afternoon's blaze." It is apparently a 5-alarm fire. Not at all good.

Update, Monday: The two firefighters, Robert Beddia and Joseph Graffagnino, both veterans of 9/11, died in the blaze. It is a terrible story.