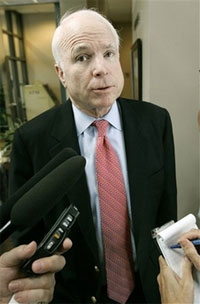 Sen. John McCain (R-AZ) has been taking a lot of flak for his recent observation to BeliefNet that America was founded as a Christian nation and that he'd prefer a president with a "solid grounding in my faith." Various Jewish groups have been at the forefront of the uprising.
But fortunately for McCain, one Jewish group has come to his defense: the Republican Jewish Coalition, a small but potent organization.
In a new statement, the group said that McCain's "long record speaks volumes about the man and his beliefs. We strongly concur with Senator Joe Lieberman's statement: 'I know that [John McCain] is fair and just to all Americans regardless of faith.'"
The RJC also accepted McCain's efforts to back away from his remarks:
While members of the Republican Jewish Coalition (RJC) would not have expressed themselves in the manner Sen. McCain did, a full reading of the entire interview shows Sen. McCain unequivocally reaffirming the separation of church and state and recognizing the Judeo-Christian values upon which this country was founded.
This is helpful for timing for McCain. On October 18, the Arizona senator is scheduled to appear at the RJC's Candidates' Forum, which will give him another opportunity to trumpet his national security credentials before a wealthy and heavily mobilized political minority.
RJC's statement will give McCain good cover if his statements about religion are raised during the event.