Page Six Magazine is still in its infancy, but was notable this weekend not for the fashion or lipo for skinny people articles, but for it's cover girl. Sunday's issue, the weekly's fourth, featured ABC's "Dirty Sexy Money" starlet Samaire Armstrong on the cover.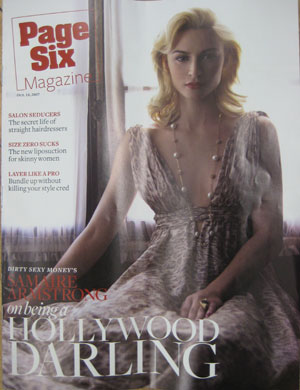 According to the interview, which isn't online, she talks to her parents daily, loves McMuffins and doesn't really drink anymore. None of this would be notable except late Friday her publicist confirmed Armstrong entered an outpatient rehab facility for unspecified issues.
"Samaire Armstrong decided to enter an outpatient facility to deal with some personal issues in a therapeutic atmosphere and is doing very well," the rep said in a statement Friday. "She continues to work on her show and will be completing her treatment in a matter of weeks."
Armstrong is also known for her roles on "The O.C." and "Entourage."