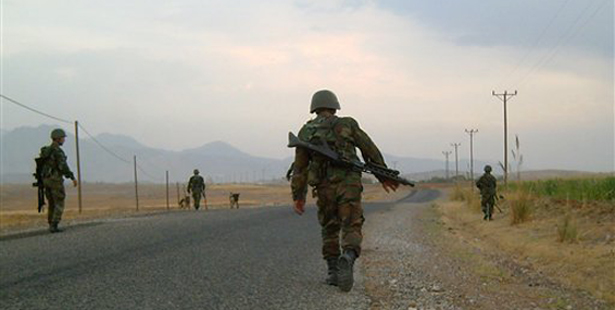 What's all the fuss about a million or so dead Armenians? What's a little genocide among neighbors now and then? Apparently not much, nay, non-existent -- especially if you're a "liberal" Democrat on the payroll of the Turkish government.
Bad enough that disgraced former House Republican Bob Livingston has raked in a cool $12 million over the last handful of years by lobbying for a Turkish regime that shamelessly denies the mass murder of as many as 1.5 million Armenians during WWI. Worse when self-proclaimed progressive Democrats also share in the blood money.
As revealed by correspondent Dan Nichanian, reporting for HuffPost's Off The Bus project, former Democratic House Leader Dick Gephardt has also sucked up the big bucks by shilling for the Turkish government. Gephardt, these past few weeks, has been spearheading a lobbying effort to oppose a decades-belated House resolution that would simply, and finally, brand the Armenian genocide as, well, genocide. Says Nichanian:
Turkey has launched an all-out effort against the resolution, enlisting the help of many former politicians turned lobbyists - especially former Rep. Dick Gephardt, a big advocate of similar resolutions in the 1990s but who now has become a the leader of the Turkish lobby - and threatening to strike back if the bill is approved by Congress.

Proving the efficiency of this multi-million blackmail campaign that also included full page ads in the Washington Post and aggressive mailings to congressmen, many representatives stunningly reversed course in the past few weeks. Washington Democratic Rep. Jim McDermott, originally one of the bill's co-sponsors, flip-flopped and was quoted by the Seattle Times saying that there is no evidence of a genocide. "The issue in large measure is between the Armenian Christians and the Muslim Turks," he said. "We are being asked to pick a winner."
I don't know what Democrat McDermott's interest is in this sort of apology for genocide. In Gephardt's case, at least we know he's getting paid for his flackery. A day after our Off The Bus report ran, a similar account appeared in The International Herald Tribune revealing that Gephardt is bagging $1.2 million for his dubious efforts.
We also learn in the IHT report that yet another former liberal House Democrat, Steven Solarz of New York, has clambered onto the Turkish Express, tightly grasping a $165,000 ticket in his palm.
Earlier attempts by the House to pass similar resolutions in 2000 and 2004 were quashed by Republican strategists led by none other than Karl Rove. But after the Democrats won last year's congressional elections, fellow former Democrats like Gephardt and Solarz were brought in off the bench to try and sweet-talk their party peers out of doing the right thing. Apparently, Pennsylvania Democrat Jack Murtha was reigned into the fold earlier this year after he rather conveniently got a $3000 campaign contribution from lobbyist Livingston's firm. Murtha is reported to have phoned Speaker Nancy Pelosi to ask that she not bring the anti-genocide resolution to a full House vote.
I remember four years ago when Gephardt was roaming the fields of Iowa, flogging his Democratic presidential candidacy as the populist defender of the working man. Armed with barrels of cash and a laundry list of union endorsements, Gephardt pushed himself as the little guy's alternative to Establishment Washington. The voters of Iowa saw right through him and sent him packing. Little did they know he would parlay his opportunism into such a rich and sordid retirement.