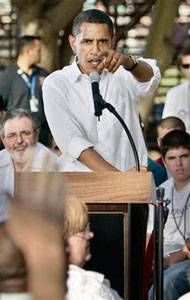 This past July, Senator Barack Obama, D-IL, stirred up the campaign trail by proclaiming that as commander-in-chief he would personally meet with Iranian President Mahmoud Ahmadinejad without preconditions within his first year in office. It is a position Obama has stuck to adamantly and one that his campaign has emphasized as a critical foreign policy difference with his Democratic rival Sen. Hillary Clinton, D-NY.

But in a little-noticed interview in May 2007 with the Israeli paper, Ha'aretz, Obama advocated what appears to be a more conditional, nuanced approach to Iran. In an exchange with reporter Shmuel Rosner, Obama said it would be inappropriate to pursue "full-scale" diplomatic negotiations with Tehran without seeing positive steps beforehand.
"I don't think it would be appropriate for us to engage in full-scale diplomatic discussions without some progress or some indication of good faith on the part of the Iranians," the senator said. "I do think the U.S. needs to send a signal to Iran that if they change their behavior that they have avenues available to them for improved international relations."
The Obama campaign dismissed the idea that there was a contradiction between his comments to Ha'aretz and those made on the campaign trail. But as recently as October 12, the senator had declared that "the way to support diplomacy [with Iran] is to actually pursue it. That's what I've called for throughout this campaign - direct diplomacy, without preconditions. And that's what I'll do as President."
According to Ben Labolt, a spokesperson for the senator, the process of "full-scale" diplomacy, such as establishing an embassy in Iran or an ambassadorship in Tehran, does require Iranian leadership to take certain steps. But that does not preclude Obama and Ahmadinejad from meeting face to face.
Even so, the interview with Rosner suggests that as early as five months ago, Obama valued "low-level" talks as the most effective way forward in engaging Tehran. In the interview, Obama praises negotiations "of the sort that the Bush Administration has already begun to initiate," and declares it is "absolutely critical for the international community to verify progress before there are changes in our attitude toward Iran."
"It sounds suspiciously like the current policy," Barbara Slavin, author of "Bitter Friends, Bosom Enemies: Iran, the U.S. and the Twisted Path to Confrontation," told the Huffington Post. "Secretary Rice has said repeatedly that if the Iranians suspend uranium enrichment she would meet with them at any time or any place. Now Obama talked about a change in behavior, which isn't the same thing as uranium enrichment. But I assume that is what he means... Either he will or won't meet with the Iranians without preconditions, which is it?"
The debate over how best to engage Iranian leadership has become one of the central issues of the 2008 campaign, made even more pertinent after President Bush recently warned of a "World War III" should Iran gain knowledge of making nuclear weapons. While every candidate in the Democratic field has touted hands-on diplomacy as a means for averting a military confrontation, the campaigns have argued vehemently about what constitutes the best way forward.
The issue rose to the surface a few weeks ago when the Senate passed an amendment introduced by Sens. Joe Lieberman and John Kyl, designating Iran's Revolutionary Guard a terrorist organization. Clinton was the sole Democratic candidate for president to vote in favor of the measure. And while Obama missed the vote, he criticized Clinton and the legislation for giving Bush the pretense to invade Iran.
Months earlier, after Obama declared he would meet Ahmadinejad and other oft-criticized world leaders without preconditions, Clinton derided his stance as "naïve." But she has come under similar attack from her rivals. During an event on October 11 in New Hampshire, Clinton said she would "engage in negotiations with Iran, with no conditions, because we don't really understand how Iran works."
Her campaign said this was consistent with her long-stated position and not a commitment to meeting directly with Ahmadinejad.
Obama has addressed the Iran issue repeatedly over the last several weeks, including on interview programs like the Tavis Smiley Show and, loosely, in a campaign commercial released in New Hampshire.
The careful parsing of words and phrases in each candidate's foreign policy statements reflects the sensitivity and complexity of U.S.-Iranian relations. But it may be overblown. As some foreign policy experts claim, the Democrats are much closer to a consensus on how to deal with Iran than their rhetoric suggests.
"Trying to figure out what the candidates actually mean is not easy," Gary Sick, the principle White House aide for Iran during the Iranian Revolution, told the Huffington Post. "Obama is really taking the position of the Baker-Hamilton report which almost unequivocally called for some kind of engagement... The concept of engagement is really a very serious one and [Sen.] Hillary Clinton really didn't denounce it as an idea. She was just simply picking up on a statement Obama made in the debate."