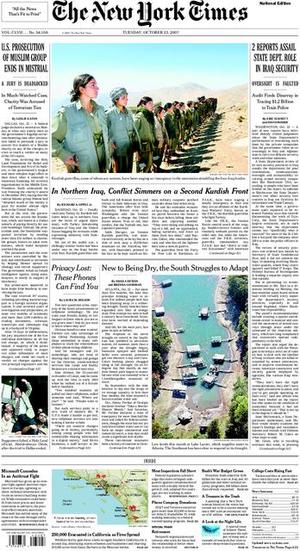 Yesterday Danny Shea noted that the raging fires in California were unquestionably the story of the day, with all three cable nets running the mesmerizing footage of the bright orange blazes, 250,000+ people evacuated from their homes, and no end in sight. Meanwhile, all three nightly news anchors are by now already on site. But oddly, the NYT's front page today and homepage yesterday and today have not really reflected the ongoing drama playing out on the other side of the country. The front page as shown is both the New York and national edition; the homepages screen-grabbed below are from early afternoon (top) and last night circa 7pm (bottom). A friend pointed it out — "Now I am the hugest proponent of paying more attention to the Microsoft anti-trust case, but California is on fire" — and I was pretty surprised to see that the NYT homepage didn't even have the fires above the fold, let alone as a lead story or a dramatic photo. Today's front page photos reflect international news from Iraq and the shocking drought in the south — news, of course, but, see above — California is on fire. On MSNBC the scene was just compared to "a war zone"; by front-page close time a quarter of a million people had been evacuated (CNN just reported that the number is upwards of 321,000 now), there was no sign of possible containment going into the night — and for dramatic images, a news junkie really can't do much better. Yet the NYT front page relegated the fires to the bottom of the page, almost a news blip, let alone below the fold. This, by the way, is also the front page for the national edition. Er, NYT? Hello? California is on fire.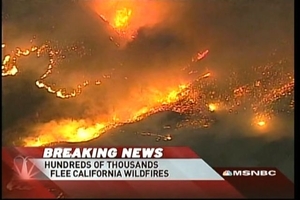 Perhaps ETP's news nose is off the scent, but this seems like terrible news judgment. This is a disaster of huge proportions, with millions of dollars in devastation, a low mortality rate thank goodness but the upheaval and destruction is staggering, with the official national emergency seal of approval courtesy of President Bush. The comparisons to Katrina are obvious — natural disaster unfolding and escalating; evacuations; people even taking shelter in a football stadium (but fortunately, authorities are a lot more prepared this time around). The images on TV are mesmerizing; there is no other way of slicing it: This is big news. Yes, it made it above the homepage fold by this afternoon's screengrab (and yes, I just checked and it's finally the top story on nytimes.com ) but see above: California is on fire.
Sure, there are other stories — Turkey and Iraq is important, no doubt about it — but how a news organization allocates its column inches/airtime speaks directly to its news judgment and editorial priorities. For a paper that's billed as the Paper of Record, for Tuesday, October 23, 2007, it seems an odd choice.