As the wildfires that ravaged southern California are gradually brought under control, speculation grows over what could have been done to reduce the damage.
Locally, officials have focused on the need for modernized and coordinated disaster-response efforts, while again questioning the prudence of building houses in areas prone to fire.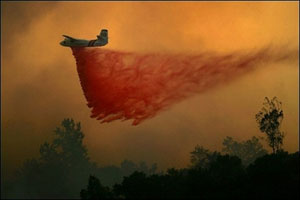 On a national level, however, the discussion is much broader. Within political circles, the California wildfires have yet again thrust the debate over the Iraq war into the spotlight, this time by calling into question how America uses its National Guard.
According to the office of California's Lt. Gov. John Garamendi, the state's National Guard is under-funded, mismanaged, and stretched to the breaking point. Approximately 2,500 of its members were deployed overseas at the time of the fire. Its equipment is generally 30 to 40 years old. And, according to a recent USA Today article, at least 800 Humvees, 700 medium tactical vehicles and 50 heavy lifter trucks were unavailable, primarily because they were being used in Iraq.
When disaster struck this week, a large portion of the responders had to be brought into California from other states, including two firefighting experts from Montana. For many Democrats, this reflects a larger, more frightening trend; that the lack of National Guard personnel and equipment is leaving America vulnerable at home.
On Capitol Hill, news of the fires and the Guard shortages provided a forum to revisit legislative battles over the war. An amendment introduced (for the second time) last month by Sen. Jim Webb, D-VA, would have given National Guard units a three to one ratio of dwell time at home, compared to the current one-to-one system. Had the measure not been filibuster twice in the Senate, Webb's office noted, more guardsmen would have been available to help combat the wildfires.
"Extended troop deployments in Iraq and Afghanistan compromise the long-term ability of states to respond adequately to natural disasters of this magnitude," Webb told the Huffington Post. "Not only are we burning our ground forces out, but states are feeling the impact of this extended service."
Indeed, several recent government reports point to a Guard that is poorly utilized and stretched too thin. In January 2007, the Government Accountability Office stated that "the types and quantities of equipment the National Guard needs to perform domestic missions have not been fully identified using an analytic based process, particularly for large-scale, multi-state natural disasters."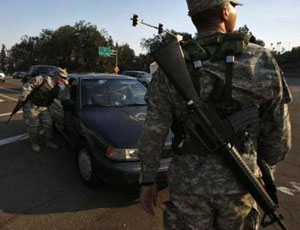 In March 2007, the Congressional Research Service found Army and Air National Guard units to be "not ready" domestically, "primarily on current military equipment shortages and concerns for long-term operation reserve capacity."
And in an August 2007 letter to Sen. Barbara Boxer, D-CA, acting Army Secretary Pete Green wrote that California's National Guard "has adequate capability to respond to small and medium domestic missions. However, equipment shortages could potentially limit their capability to fully respond to large scale emergencies such as a catastrophic earthquake or major flood."
These reports, coupled with news of the half-a-million displaced and 500,000 acres burned in southern California, prompted a number of Democratic figures, including several on the campaign trail, to rail against the Bush administration's foreign policy.
"Governor Schwarzenegger has had to ask other states for help because so many of California's National Guard, who provide critical support to the citizens while you are fighting the fires, were deployed to Iraq," Sen. Chris Dodd, D-CT, declared on Wednesday. "In a Dodd Administration, never again will our houses be on fire because our troops are taking fire in Iraq."
The California fires are not the first time a national disaster has been used as a medium to debate the Iraq war. In the aftermath of Katrina, questions were also raised as to whether America had overlooked national security and disaster preparedness by funneling too many resourced to the Middle East. And this past May, when tornadoes wiped out the small town of Greensburg, Kansas, anger erupted after it was reported that roughly 60 percent of the state's Guard equipment had been shipped overseas.
"Too many of America's first responders and national guard personnel are fighting a losing battle in Iraq," John Isaacs, Executive Director for the non-profit Council for a Liveable World, told the Huffington Post, "rather than the battles they need to be fighting at home."