One month after Freedom's Watch emerged with a $15 million ad buy supporting a sustained Iraq war, the New York Times reported that the group was turning its attention to Iran. The paper reported in late-September that an October gathering, including experts from the American Enterprise Institute, would plot a new course on Iran.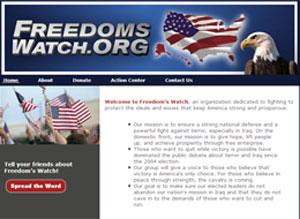 The reports created an immediate air of menace: just as a group of "neoconservative" foreign policy thinkers had plotted out the war in Iraq before the end of Bill Clinton's second term in the guise of the Project for a New American Century, the usual suspects seemed to be planning the same for Iran. Freedom's Watch is led by former senior Bush White House staffers Bradley Blakeman and Ari Fleischer.
To get an idea of how much concern Freedom's Watch's work on Iran has created, take a look at a recent fundraising e-mail from MoveOn.org.
"Freedom's Watch, a $200 million propaganda machine headed by former White House insiders, has started to press for an attack," said an October 24 e-mail on Iran from the group.
So what happened at the meeting? A precise answer is hard to come by, but in short, it appears that Freedom's Watch brought together a group of conservative political thinkers to touch base on Iran under its banner, and accomplished little else. And while the Times reported that the gathering would include "20 experts on radical Islam," a number of well known conservative Middle East and Iran specialists were not accounted for among the attendees.
Freedom's Watch has long insisted that the meeting was a private, off the record affair, and staff will not discuss it. They wouldn't even confirm a particular date to the Huffington Post, although spokesman Matt David said on Friday, Oct. 19 that the meeting had already occurred. This places the affair within the interval of a busy week that included the October 16 Republican Jewish Coalition Candidates Forum on one end, and a typically aggressive address by Vice President Dick Cheney before the Washington Institute for Near East Policy on Sunday, October 21.
After dozens of phone calls and e-mails, the Huffington Post could not locate any Iran or Middle East specialists who had attended the meeting. But a conservative think tank insider with knowledge of the meeting gave us a broad sense of what transpired.
"The general purpose was to have an exchange of ideas," the source explained. "Given that suddenly, this behemoth has emerged, most of panelists wanted to prove their worth to Freedom's Watch, and show off their intellectual heft."
The event, however, did not yield a manifesto like the one in 1998 that called for regime change in Iraq.
"No action items emerged on a broad scale," our source added. "The meeting mostly had a social networking function, to bounce around ideas on Iran, and let people get to know each other."
And the source confirmed that specialists on Iran and the Middle were not represented at Freedom's Watch's confab.
"These were not people hunkered down on Iran policy, this was not a meeting of experts," the insider explained.
It was particularly notable that some of the "usual suspects" did not appear to be represented at the meeting.
"I had never heard of it until now," said the American Enterprise Institute's Joshua Muravchik in an e-mail last week.
Another AEI scholar, Michael Rubin, sent a similar e-mail, writing, "No, I was not in attendance."
AEI Vice President Danielle Pletka said she did not wish to publicly comment about her attendance or non-attendance. An AEI staff member said that expert Reuel Marc Gerecht, who has called for military action against Iran, is currently based in Prague. And two prominent figures in the neoconservative movement, Michael Ledeen and Richard Perle, did not return multiple phone calls or e-mails seeking comment.
Other prominent conservative political thinkers who specialize on Iran and the Middle East also confirmed that they did not attend or were not invited to the meeting. Middle East specialists at the Hudson Institute were not at the gathering. And a scholar at the Heritage Foundation confirmed that he was not invited.
"I haven't heard what they talked about," said Jim Philipps. "I only heard it was something about Islamic radicalism."
Groups with connections to Iranian opposition figures also didn't make the cut. The Mujahedin Khalq Organization-linked Iran Policy Committee, which proposes using US military might to help opposition in and outside of Iran overthrow the current regime, confirmed to the Huffington Post that it was not invited. And a spokesman for Kenneth Timmerman of the Foundation for Democracy in Iran stated that he was traveling at the likely time of the meeting.
Staff at the Foundation for the Defense of Democracies and the Washington Institute on Near East Policy did not respond to queries from the Huffington Post.
The DC think tank insider said the Iran meeting might have been beyond the nascent capacities of a new group like Freedom's Watch.
"The thing is that Freedom's Watch is coming to town, and they've been making noise a bit too quickly, before they had a coherent agenda," the source argued. "As MoveOn demonstrates, that can be a problem."
Another Iran specialist said she believed that given the current tone of the presidential race, with many candidates on both the Democratic and Republican sides making muscular statements about Iran, the need for a group like Freedom's Watch to serve as a pro-attack vanguard had not yet been demonstrated.
"If you say anything irrational about Iran, it encourages all of the candidates to track to the right," said Suzanne Maloney, a Senior Fellow at the Brookings Institution. "I'm not sure you need a Freedom's Watch to encourage anyone to out-demogogue their opponents."