Members of the House and Senate came together on Tuesday morning to work out how to fund U.S. armed forces at home and abroad. But at the end of the day, they remained largely in the dark about how Congress will ultimately proceed, particularly in regards to Iraq.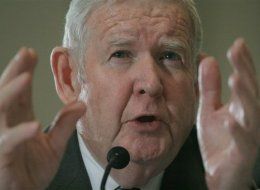 "Nobody can really pinpoint what the hell is going on," a Democratic staff member with knowledge of the defense funding negotiations told the Huffington Post Tuesday afternoon. "There's no clear path when you've got a president blocking the door, and with most Republicans willing to go along with him, there's not a lot of wiggle room."
After the morning conference meeting, House and Senate budget-makers agreed to pass $459 billion in appropriations for the Pentagon's basic operations. Members will also amend the bill on the floor to add $11.6 billion for mine-resistant armored personnel vehicles, or MRAPs. Moreover, the bill will be paired with a continuing resolution to keep the rest of the government funded through December 14, at which point Congress members will be required to take up a subsequent resolution if other pending spending bills are not yet completed. The previous continuing resolution to fund the government runs out on November 16.
But key questions remain: how and under what conditions will Congress fund U.S. military operations in Iraq, Afghanistan, and elsewhere? Rep. David Obey (D-WI), chairman of the House Appropriations Committee, insisted on Monday that he will not take up the president's emergency war budget request until early 2008. However, a gap remains between when the appropriations bill for next year kicks in and when the military's emergency funding for 2007 will run out.
Tuesday's conference meeting took up this question, with Sen. Robert Byrd (D-WV), chairman of the Senate defense spending panel, wrangling with ranking Republican Ted Stevens (R-AK) over how best to deal with a "bridge fund" for the gap between the two budgets.
Byrd and other Democratic negotiators want to use the bridge funds as another tool to force policy changes on Iraq from President Bush. Attaching funds to an ordinary spending bill would allow Bush to continue the "horrible, misguided war in Iraq without any Congressional direction that he change course - no strings attached," Byrd's office said.
Stevens "wanted to use this opportunity to continue the status quo," said Rep. Marcy Kaptur (D-OH), in a Tuesday afternoon phone interview. "The way I look at it this morning is that the debate on Iraq obviously will be separate from this and this bill will not be mired down in that debate, and there was an attempt to link them through the bridge fund amendment from Sen. Stevens and he was defeated by members of his Senate subcommittee."
Another Congress member agreed.
"I'm pleased that the conference report does not include the President's request for $70 billion for Iraq," said Rep. Steve Rothman (D-NJ), also a member of the House Defense Appropriations Subcommittee, in a statement. "The President should not be allowed to sneak funding for his failed Iraq Policy, which is draining our military might and resources, into a bill intended to build up our Armed Forces."
But at the end of the day, it's unclear how the matter of the bridge funding for the Iraq war will be concluded.
"We're leaving that up to the leadership to decide," said Matthew Mazonkey, a spokesman for Rep. John Murtha (D-PA), chairman of the House Defense Appropriations Subcommittee. "We hope for it to be a separate bill than the base bill, so it's not attached to the Defense Department's regular funding. It will be their call for how long and how much."
Staff for Speaker Nancy Pelosi did not follow up with the Huffington Post on what the Democratic leadership's plan would be for the bridge funding.