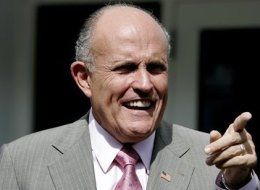 The top campaign staffers for former New York Mayor Rudy Giuliani want everyone to ignore the significant leads that ex-Massachusetts Governor Mitt Romney has in Iowa and New Hampshire. They say the Republican presidential hopeful will race to a triple-digit delegate lead after the February 5 "super primary" when 20 states will have their primaries, including a number of large states that use "winner take all" rules to assign delegates.
"Conventional wisdom has never guided this campaign," said Michael DuHaime, the Giuliani Campaign Manager during a Monday morning conference call.
DuHaime argued that it was not Iowa, New Hampshire, or South Carolina that would point the way to the winner, but Florida because those states assign a small number of delegates to the Republican National Convention.
"Whoever wins Florida will have a delegate lead," DuHaime argued. "If you look to February 5, there are 1,038 delegates available, and regardless of how the early states line up, it shakes out very well for us."
DuHaime went on to say that Giuliani was leading in states like New York, New Jersey, Connecticut, and Delaware. Winning these states, he said, would give more than 250 delegates to Giuliani.
"It's most likely looking at the Mayor having a triple digit delegate count lead coming out of February 5," he added.
What remains to be seen is whether Giuliani's aides are engaging in wishful thinking, or identifying the eventual undoing of Iowa and New Hampshire's primacy in the nation's early electoral process.