Writers angry that Ellen DeGeneres crossed the picket line can find solace in the knowledge that she is struggling to fill time without them. Ellen continues to tape her daily show despite the ongoing strike. She first addressed the topic last Thursday, her first show that had taped since the strike began, when she did no monologue. Since then she has been lambasted by the WGA and has canceled plans to tape in New York for a week.
This comes just weeks after she sobbed on air and canceled a show over Iggygate.
On Wednesday's show, Ellen danced around the strike controversy in a decidedly more serious monologue than usual. She alluded to her troubles ("there's a lot of things going on") and wound her way through a few cliches ("this too shall pass" and "someday I'm going to look back at this part of my life and laugh"). Then she spoke of her own rough patch ten years ago. She tried for laughs as she recounted coming out, having her sitcom canceled and sobbing in her therapist's office for an hour straight. After a punchline about a cop and an ugly shirt, she danced to the song of the day, Kanye West's Stronger.
Watch:

The song may have had an added meaning, however, as Ellen said a few words about the untimely death of Kanye's mom Donda West later in the show.
Before the first commercial Ellen teased an upcoming segment as if it was new:
As the host of this show, it's important for me to understand everybody's job here. I actually got assigned to be a page at NBC over the weekend. I did pretty well. I'll show you the tape a little bit later on.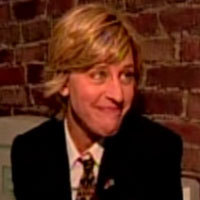 Despite pretending the package was taped this past weekend, Ellen looked noticeably different as she kidded her way through a day as an NBC page. For starters, her hair was both longer and darker than it was either today or last week. The taped piece is old. More likely is Ellen and her producers going into the vaults to dust off bits of footage that have never aired and using them to fill time, now that her writers are out and her monologues aren't so fun.