It's that time again — time for ETP's Media Winners of the Year, an arbitrarily-selected and subjectively-evaluated list of people and/or entities who went beyond just excelling at their jobs and ascended to new levels of prominence and influence this year, raising their game, raising the stakes, and putting their definitive stamp on the year that was. It's not an exhaustive list — by all means, make your nominees known in the comments section — but while I think we can all agree that Vladimir Putin had a banner year, he will not be appearing on this list. Onward!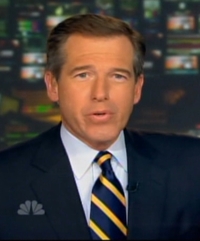 Brian Williams: Not for SNL. Not for being BFFs with Bono. Not for being the luckiest recipient of the best nickname ever. For what matters: His day job - and getting his ratings lead back. Incredibly, he and the Nightly News team stemmed the slide and pushed back into dominance, topping ABC and finishing a year that looked like a rout in a veritable draw (when you're dealing with ratings in the millions, a difference of <100K is a blip).* Outside of the day job, though, he's still a go-to (think: POY panel, Conan and Kimmel and Stewart perma-guest, Men's Vogue coverboy). And, yes, there's that SNL thing. Let's just hope he doesn't go all Hollywood on us. (Cough Michael Douglas cough.)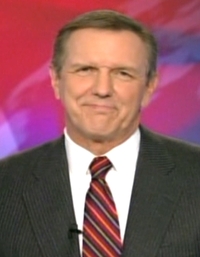 Charlie Gibson: Previous paragraph notwithstanding, what a year for ChaGi! From ABC also-ran to ratings king, against all odds and within a year of taking the chair.. Climbed to the top, unseating the incumbent NBC (and BriWi, whose seamless ascendancy was matched in extremity by how bumpy the ABC transition was) — all without making cute on Conan, Kimmel or Stewart, posing for fashion magazines or deigning to wear anything plastic around his wrist. So fine, the pendulum is swinging back to NBC - even so, it's looking like Gibson and World News will still take the year by a hair (see above). But either way, no longer is Charlie Gibson Diane Sawyer's sidekick or David Westin's consolation prize. This year, he's getting some serious respect.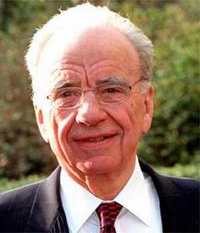 Rupert Murdoch: This one bores me to write because everyone's done it already, every day from April 17th when Rupe first tendered an offer for Dow Jones straight through July 31st when the deal was officially approved, and then some. Plus there was the launch of the Fox Business Network, which got monster publicity as a challenger to CNBC (even though it doesn't appear all that threatened), plus staying hip and current thanks to MySpace. So I'll just link and reiterate, wow. Good year for Rupe!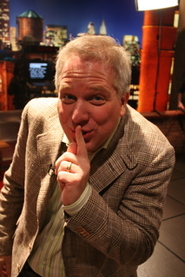 Glenn Beck: Does it pain me to write this? Hell yeah. But you can't deny that this was Glenn Beck's year. A controversial (read: talked about) TV show with a growing audience (though considering it's on Headline News, note that that's relative). A #1 book with a pretty damn good cover. A ridiculously lucrative radio deal. A gig as an ABC News contributor. Yes, he's had some ratings challenges, he's had impressive growth (again, put that in context) and shoots off his mouth enough to stay well in circulation. He keeps Media Matters busy — and that's just how he likes it. He even has his own column devoted to him on this very site — "Beckwatch," which a brief skim through will make your jaw drop that such a man could have had such a year. And yet.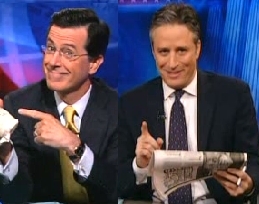 Stephen Colbert & Jon Stewart : Even though Stephen was named "Man of the Year" by the AP, these two have to be taken together because of what they represent: The voice of reason and reality cutting through the bullshit. Neither of them did anything breakout this year, per se - Stewart had no Crossfire moment, Colbert had no White House Correspondents Dinner - but they built on and consolidated themselves as outstanding truth-tellers and messengers of caring to this generation. Pillars of the MSM routinely laud them as a crucial element of the media (BriWi says they function "almost as a separate branch of government"); theirs were names oft-cited in dismay at what was being lost with the writer's strike (oh, the untold Huckabee jokes!). Getting your news from Stewart and Colbert remained ever a staple (and believe me, I notice the lightening of my workload now that they are off the air). Here's a random sampling of guests: Vicente Fox, Bill Clinton, Barack Obama, Al Gore, Gary Kasparov, Naomi Wolf, Jeff Toobin, Thomas Ricks, Tina Brown, Michael Beschloss, all of whom brought news and edification to their audiences (in varying degrees; Tom DeLay was on, too) (but then again, so was Jake Gyllenhaal. Mmm.) Never mind reliably hilarious moments that would be YouTube moments if Comedy Central clips were permitted on YouTube. Never mind that Colbert very nearly ran for President — and, considering the Republican field, could probably have won handily (or at least outclassed Romney and Huckabee with a firearm). Stewart/Colbert '08!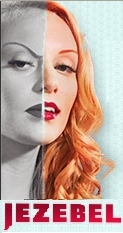 Jezebel: When n plus one recently argued that Gawker has "outlived the conditions for its existence", it may have inadvertently stumbled across the explanation for the success of Jezebel, the post-postfeminist takedown of the "celebrity-sartorial complex" which Gawker scion Nick Denton launched to much fanfare in May. After the first few months of chugging along nicely as an underground sleeper, Jezebel hit the bigtime in a bigtime way when it unveiled the winner of its photoshop contest, a retouched Redbook cover shoot of Faith Hill, mother of three, sans crows feet and earlobe fat. The image, which quickly made the morning talk show rounds, put the entire "celebrity-sartorial complex" on the defensive, with Redbook editor Stacy Morrison mumbling something about industry practices. But the game was already up: Jezebel was on to something big, and people were starting to tune in. (For the record, the post has garnered over a million hits to date.) The timing couldn't have been better, with Jezebel's precursor-in-spirit Jane Magazine folding and Conde Nast letting Jane's web presence, which might have otherwise been a viable media property, go down with it. Since then, Jezebel has picked up the slack that's been left by Jane and, some may say, Gawker: hilarity, insight, cutting humor, raw self-revelation, blunt tackling of taboo subjects - but without the nasty edge. (S.H.)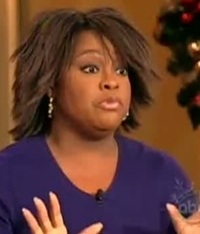 Sherri Shepherd: Had YOU ever heard of her before The View? Think what you will of her, but in a few short months she's gone from relative unknown (bit part on 30 Rock) to a household name — or at least a watercooler one. Thanks to unforgettable lines such as "I don't know if the world is flat" and "I don't think anything predated Christians...Jesus came first," she's helped keep The View's clip-factory in business, making us all but forget Rosie. Whether this was Barbara Walters' intention in hiring her is anybody's guess, but what we do know is that Sherri Shepherd landed on the map in 2007. And for better or for worse, we're pretty sure she'll have a lot more to say in '08 (see Sherri's Top 5 Moments of 2007 here). (Danny Shea)

The Upright Citizen's Brigade: It's the UCB's breakout year.This star-minting factory co-founded by Amy Poehler and regularly featuring her best friends from SNL is officially a star-minting factory: Poehler, 30 Rock's Jack McBrayer, The Daily Show's Rob Riggle. The guy in those T-Mobile commercials? UCB. MTV's Human Giant? UCB. Countless writers at SNL/30 Rock/Colbert/Stewart? UCB. On any random day, you might find Alec Baldwin, Jon Kasinski, Tina Fey, Rachel Dratch, Horatio Sanz, Chevy Chase, Mike Myers, Al Franken, David Schwimmer, Will Arnett, Norah (or Rashinda) Jones, or Lorne Michaels at the theater, in the audience or on the stage (okay, Lorne'll probably be in the audience). In addition to getting recognition from the NYT (though it was hardly news to the people lined up around the block every Sunday night), thanks to the writer's strike, the theater was suddenly on the map for three hot-ticket live shows (SNL, 30 Rock and Colbert), all of which established UCB more firmly as the city's - maybe the nation's - comedy clubhouse. It's a story that comedy geeks have been on for years; in 2007, the rest of the world started catching on.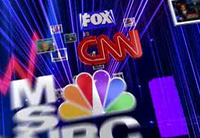 MSNBC: There can be no question, MSNBC had a damn good 2007 — it's up 32% in prime time and finished the year as the fastest-growing fully-distributed cable channel, bar none. The network's jewel in the crown, "Countdown" with Keith Olbermann is up 55% and the momentum is spilling over to other shows (like "Live with Dan Abrams" which has been trending upward since the anchor who had morphed into the bossman morphed back into an anchor). Hardball is up (in both timeslots) and the DocBlocks are up,too (er, sorry Tucker). The network managed to squeeze a lemon into lemonade when it lost Don Imus (well, when it told Imus to get lost), reshuffling talent to put Joe Scarborough on in the morning (and annexing Scarborough Country to do so, resulting in some turmoil and GM Abrams suddenly juggling two roles as exec and anchor). With brand-new studios in 30 Rock, it's no longer the country cousin in Seacaucus, and the synergies of the merger are already starting to show. It may not be much of a challenge to Fox just yet, but it does have CNN in its sights.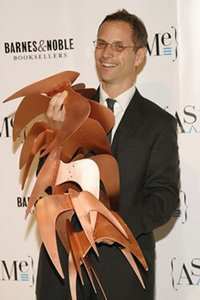 Adam Moss: Blah blah blah Ellies blah blah blah new Remnick blah blah blah Wunderkind blah blah Look blah blah black and white. Everyone loves Adam Moss. Fin.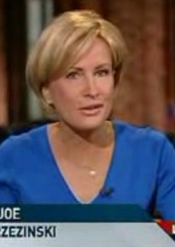 Mika Brzezinski: Speaking of MSNBC, here's one of its breakout stars: Mika Brzezinski, "Morning Joe" co-anchor, dayside newsreader, and recently-minted Nightly News correspondent to boot. She left CBS in January (where she had been caught up in the post-Rather pre-Katie pre-Schieffer Moonves-doesn't-know-what-he-wants anchor whirl) but quickly found a great platform on "Morning Joe," making her name by dissing Paris Hilton on air, refusing to read news of her travails with the law, trying to light the script on fire and eventually putting it through the shredder — in what became one of 2007's breakout YouTube moments. Coincidentally (ish), three days later she was told that she'd been assigned a permanent hour of news each morning following Morning Joe. Also has had some buzzy sit-downs with candidate wives Michelle Obama and Elizabeth Edwards. Bonus: Has Jimmy Carter's national security advisor on speed dial (and can even spell his name!).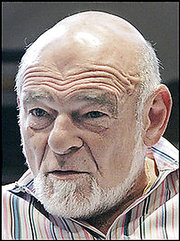 Sam Zell: Before there was Rupe and the Bancrofts, there was Zell and the Chandlers. Perhaps harder to recall in the wake of Murdoch's sign-of-the-coming-apocalypse/purchase of the Dow Jones Co., but for most of this past spring media headlines were dominated by the sale of the Tribune Co., (which includes the Chicago Tribune and the LA Times), by the Chandler family and what it might mean to newspaper ownership vs editorial independence the world over. Chicago real estate entrepreneur Sam Zell - whose last name was a gift to headline writers everywhere - prevailed over a last minute bid by Hollywood duo Ron Burkle and Eli Broad and the deal from Zell, wait, we mean "hell" was finally finalized earlier this month. As to how a Chicago billionaire with no media experience will take to being the CEO of a media company, time will Zell, we guess(Glynnis MacNicol)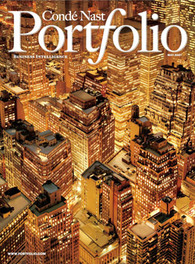 Portfolio: Could it be? Is it possible that beleaguered and piled-upon Portfolio could be a....winner? After all the hoopla (read: money) leading up to its launch, expectations were high and criticism cutting, but somehow it's still around — and so is EIC Joanne Lipman (even if some of her senior editors/contributors aren't). Somehow it picked up 350,000 subscribers and seems to be a magazine with good writing (and good writers) plus a purpose: business as the intersection of everything else (in the most recent issue there are stories that touch on Will Ferrell's online comedy site, Gossip Girl, the Drudge Report, the faux-populism of John Edwards, rock-star-cum-financier Bono's financier-cum-rock-star partner, corporate espionage, and Wall Street family foundations (the one weak link was an essay by Robert Reich against corporate responsibility, which was simplistic and superficial). Also, it's got a surprisingly vibrant web presence, with independent bloggers generating online buzz and pickup (see Lloyd Grove and Jeff Bercovici). All told, the upshot is: It's 2008, and Portfolio is still around. Not a high bar necessarily but an important one to meet for something that may just represent the last of the great magazine launches. How it fares will cast a long shadow.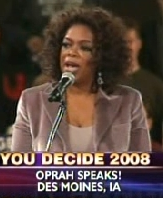 Oprah: It's boring to anoint Oprah — and not like she needs it — but if you look at the campaign it was her big Obama-rally weekend that really seemed to kick off his revitalized campaign. His best debate performance happened after that weekend, and she refocused the campaign back to where it started: That here was this savior, this shimmering beacon of hope. Obama the rock star got lost along the way as in debate after debate he failed to really shine (or take the shine off Hillary), and just couldn't manage to break out and meet all of the crazy expectations that had been set for him. Then, Oprah; and then, numbers. It's glib to give the big O credit for all of that, but still, not a coincidence - maybe more of a catalyst. But either way, it takes one hell of a Teflon personality to go from a huge political presidential rally on Sunday to kvelling over Criss Angel on Monday. I'm just sayin'. (p.s. It says something that Oprah's star is undimmed so soon after news of the scandal at her African school came out — that was not a small thing, for her — or, presumably, for someone with presidential aspirations seeking endorsements. Like I said — Teflon.)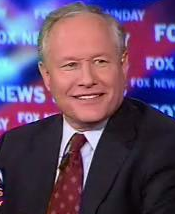 Bill Kristol: Don't shoot the messenger — it wasn't us who gave him a columnist's spot at the New York Times. Alas, that inexplicable call was made, so we have no choice but to recognize Bill Kristol as an eleventh-hour 2007 winner — not only for the column, but for still being employable after being so disastrously wrong so many times. Which, I suppose, makes us the losers.

Runners up, non-winners and last year's list coming later in 2007!

*Updating from the numbers cited by the NYT here, as of Dec.23/07 the difference between the two newscasts was approximately 97,000 viewers more for ABC, per Nielson.