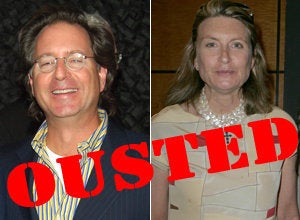 UPDATE (5:50 PM): The headline and photograph attached to this story previously, and incorrectly, indicated that Lou Cona had been "ousted" from his role as New Yorker publisher. He was, in fact, promoted to a more senior position within Conde Nast.
Two items from AdAge's Nat Ives today show the big changes taking place at Conde Nast.
Lou Cona, who had been publisher of The New Yorker since 2005, was named to a position in Richard Beckman's corporate group, according to two insiders informed of the changes. It wasn't clear yet this morning who would take over his spot at The New Yorker. Ad pages there edged up 3.8% from January through its Dec. 24 issue, according to the Media Industry Newsletter, but fell 12.7% in 2006, according to the Publishers Information Bureau.

At the same time, Gina Sanders, who had been publisher at the company's very strong Teen Vogue, was named to take over Lucky from Sandy Golinkin, who had been publisher there since 2000. Ad pages at Lucky, the formerly white-hot title that created the shopping category, were essentially flat in the first three quarters of 2007 and in 2006, according to PIB. Ms. Golinkin was not immediately available for comment, and it was not known what her next move will be.
Conde Nast's big changes today have expanded far beyond The New Yorker and Lucky, where the company ousted the publishers this morning, to include the departure of Mitch Fox, group president and publishing director -- and an executive once considered a contender to eventually take over the company.

Mr. Fox, who confirmed news of his exit, had overseen Conde's Bridal Group, its golf magazines, Self, Allure, Conde Nast Traveler, Bon Appetit, W and Women's Wear Daily.
The New York Post is calling today's changes a "bloodbath."