Wednesday police update:
People magazine reports that the LAPD slapped Britney with a temporary restraining order last Thursday during her custody standoff. "Called an 'emergency protective order,' it is enforced for five business days. Officers did it to 'stabilize the situation,' confirmed Kevin Federline's attorney, Mark Vincent Kaplan."

Last photos: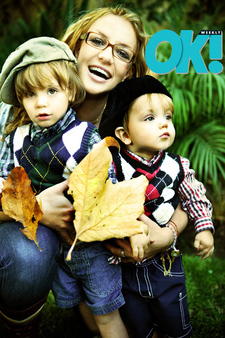 Also today, OK! Magazine hits newsstands. Gracing the cover is Britney and her two sons in their last photoshoot together, taken just weeks before her custody standoff
"She was very loving," [photographer] Brubaker recalls. "She told me she loved her children and that they are her life." And far from being the neglectful parent some would portray her as, the photographer tells OK! that Brit was "very attentive" to the needs of her sons.

As for the 26-year-old singer's reaction to the shots of her with her sons, Brubaker reveals, "I'm told that when she saw the photographs she literally cried for over an hour and stared at them all night long."
But, putting her kids on the over of the magazine may have violated her agreement with ex Kevin Federline.
Dr. Phil Update
Also Wednesday morning, Spears' family business manager Lou Taylor, acting as spokeswoman for Britney's parents, appeared on "Today" to lash out at Dr. Phil for speaking to the press about his meeting with Britney.
"What's wrong with Dr. Phil's statement is that he made a statement. The family, basically, extended an invitation of trust for him to come in as a resource to support them, not to go out and make public statements."
Watch:

Updates on her car and British accent below
Britney Spears returned to LA Monday after a weekend in the desert and in Santa Barbara swilling champagne, sucking lollipops and smoking with a paparazzo named Adnan Ghalib.
Us Weekly's website reports:
She had her Mercedes towed and impounded by police Monday night after abandoning it on L.A.'s busy Sunset Boulevard after suffering a flat tire.

Usmagazine.com was there as an irritated and upset looking Spears, with a convoy of paparazzi following, suffered a flat right front tire while driving in Brentwood. After driving for over two miles on the flat, Spears pulled the car to a stop and abandoned the vehicle amid rush-hour traffic. LAPD spokesperson Mike Lopez says Britney's car was impounded because it was "blocking the roadway."

According to eyewitnesses at the scene, Spears and her assistant then hopped into a car driven by a trailing paparazzo, who drove Spears back to her Beverly Hills home.
The trailing paparazzo was not Ghalib. The Sun reports she drove for hours before the impounding without her lights on. Moments later, Spears checked into the Four Seasons hotel. Meanwhile, Spears' car is on an impound lot and will be put up for auction in 30 days if she does not claim it.
Update:
The X17 photographer who gave Britney a ride home
has spoken
:
When asked about her weekend with Adnan, she got quiet and said solemnly: "Uh, it was fine."

That question brought her mood down a bit and she started to text again. She was preoccupied with whomever she was communicating with.

Our photog then snapped his fingers and said, "Hey, girl; are you alright?" He told her not to worry; he'd help her. She laughed.

He pulled up to her neighborhood gate and went past the guard. She said: "Let's go inside. But leave the damn camera in the car."

They walked into her kitchen -- large, with a huge center island with marble countertop. Our photog said the place was beautiful and spotless. There was a portrait of Brit with Jayden and Sean Preston on the wall between the kitchen and living room. London, her dog, was there, with her other small dog. Our photog played with them for a minute. No one else was in the house.

Brit said: "Can you take care of my car?"

All the lights were on in the house; Brit asked our guy to close her front door.

Mr. X17 asked Brit if he could take a picture and she said: "Don't be lame." :)

She gave our guy the keys to her car and he left.
The car had already been towed.

Update 2:
At the hospital last week, Britney reportedly spoke in a British accent
Elsewhere, Britney's sister Jamie Lynn has surfaced in Louisiana, the first time she's been photographed since the Nickelodeon star announced she is pregnant. Jamie Lynn, carrying a GED book, walked out of an adult education center with her mother.
Read about Spears' hospitalization drama and her weekend release, Dr. Phil's involvement and desert trip with Ghalib.