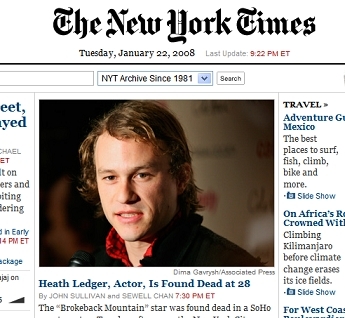 Starting just after around 4:30 pm yesterday afternoon, Monday's snipfest at the Democratic debate was knocked off the air/front pages/most-emailed lists with the sad news of actor Heath Ledger's death. The story proved itself tailor-made for the internet, with news being delivered via a raw streaming feed from the street outside the apartment, set up by TMZ, and continuous updates generated by blogs like Gawker, which dispatched a photographer/videographer to the scene just blocks from its Soho location. A crowd, estimated in the hundreds by several cable news sources, gathered around the street outside Ledger's apartment building, mixed with reporters, bloggers, citizen journalists with cellphone cameras and onlookers jostling for a better view.
Cable news, too, reported on Ledger's death — though only Fox covered it in the 5pm hour (MSNBC stuck with "Hardball" and CNN with "The Situation Room," both of which seemed to stick with the Hillary/Obama spat and Thompson non-candidacy). We'll see how those ratings stack up (indicator: The Ledger story was last night's most-viewed clip on MSNBC, and #3 on CBS).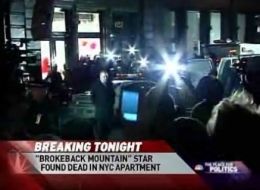 The celebrity weeklies, on the other hand, are victims of their publication cycle today: For Us Weekly, In Touch Weekly and Star, who close their issues on Monday night for Wednesday newsstand, their websites all had the news — but this week's issues will have missed the story completely. People, on the other hand, closes Tuesday and will likely hit newsstands Thursday with a big Heath Ledger cover. The New York Observer, which also closes Tuesday nights, was able to add a story about Ledger's death to its "Transom" column as its lead item (managing editor Jesse Wegman declined to share what had gotten bumped).
On Larry King Live, a much-touted reunion interview with Dr. Jan Adams, plastic surgeon whose operation on Kanye West's mother led to her death, was pre-empted at the top of the show by a hastily-assembled panel and half-hour discussion and retrospective (complete with montage set to the Brokeback Mountain theme).
The New York Times also covered Ledger's death yesterday via its "City Room" blog; today's comprehensive article by James Barron had no less than fourteen people listed as contributing reporters.
The three nightly newscasts all ran segments covering Ledger's death, with varying degrees of sensationalism: ABC teased it at the top of the broadcast with "First word is it could be drug related" and CBS' website described the situation as "what authorities suspect is a drug-related death"; NBC stayed away from the cause of death in the tease and written description, and Ann Thompson noted that "police are looking at the possibility of an overdose," noting the presence of bottles of "prescription drugs [and] non-prescription drugs." The possibility of drugs was floated early on, and early reports also suggested suicide; later reports have indicated that Ledger may have had pneumonia and also indicated that no note had been found near the body. The wildfire spread of half-informed theories and baseless speculation (also: it wasn't Mary Kate Olsen's apartment) was reminiscent of the Troy Stanley-cum-Leeland Eisenberg identification snafu during the Hillary Clinton hostage crisis in December.
Upshot: Though the day started out with the fed rate cut, Dem debate and Oscar nominations, the day's big story was about Ledger's death — and traditional media outlets could only run to catch up with the internet, particularly TMZ which, as usual, posted anything and everything in order to completely flood the zone. (Though I noticed the TMZ guy on with Greta Van Sustern didn't correct her when she said TMZ had broken the story; from the looks of it, that one goes to Radar.) Not like we need any more indicators that the nature of the news cycle has changed, but this is once again evidence that the internet has muscled out the traditional media in covering — and driving coverage of — high-profile stories like this. For good or ill.
One sad indicator of how lightning-fast news travels in this new age: In Perth, Australia, which is 14 hours ahead of Manhattan, news of Ledger's death broke at around 6:30 a.m. His family learned of his death from the media.

Update: People will have the Ledger cover, AdAdge confirms, and it's out Friday, not Thursday.

Related:
Covering the Death of Heath Ledger: From Broadcast to Paparazzi [TVNewser]