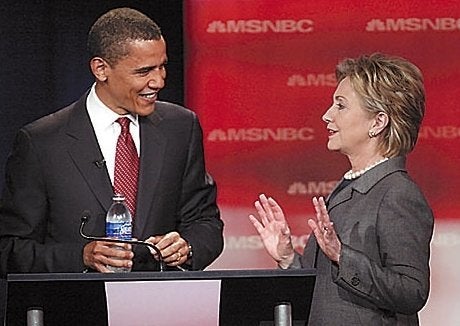 A startling surge of support for Barack Obama has catapulted the Illinois senator into a virtual tie with Hillary Rodham Clinton in California's Democratic presidential primary, a Field Poll released Saturday shows.
Arizona Sen. John McCain lengthened his lead in the state Republican primary, grabbing a 32 to 24 percent edge among likely voters over former Massachusetts Gov. Mitt Romney. Former Arkansas Gov. Mike Huckabee was at 13 percent and Texas Rep. Ron Paul at 10 percent.
But the Democratic numbers are the shocker. Clinton, a longtime California favorite, saw her once-commanding lead slip to two percentage points, 36 to 34 percent, in the new survey. That's down from the New York senator's 12 percentage point lead in mid-January and a 25 percentage point margin over Obama in October.
But with 18 percent of Democratic voters still undecided just days before Tuesday's primary, the election is still up for grabs, said Mark DiCamillo, the poll's director.
"It's an unusually volatile election, with a very high number of undecided voters and so many moving parts," he said. "It could be a very, very close election."
The head-to-head matchups between the Republican and Democratic candidates highlight both Clinton's loosening hold on California voters and McCain's growing strength in the state.
Clinton now clings to a bare 45 to 43 percent lead over McCain in a projected California presidential vote, down dramatically from her 17 percentage point margin just two weeks ago. Obama now holds a stronger 47 to 40 percent margin over the Arizona senator, but that's only half the 14 percentage point advantage he had in mid-January.
Both Democrats still run well ahead of Romney, collecting more than 50 percent of the vote in those matchups.
Obama's California campaign team said the latest polls reflect a hard-charging effort to track down potential voters in every precinct - undeterred by polls that showed the Illinois senator behind by double digits here for most of the race.
To read the rest of the report click here.
Read more on San Francisco Chronicle