If you remember, coming out of the Potomac Primaries, the Clinton campaign promised an increase focus on specifics over speeches, which is why they have gone after the specific issue of the evil plagiarism ring that Barack Obama set up a year ago, naively believing that he could get away with using his friend Deval Patrick's words armed with nothing more than the legal fig leaf of Patrick's tacit permission and support:
"The argument in question, on the value of words in the public square, is one about which he and I have spoken frequently before. Given the recent attacks from Senator Clinton, I applaud him responding in just the way he did."
Surely there is nothing but the sincerest motives behind the frenzy to impugn Obama with plagiarism charges and defend Patrick, the governor of a state that has successfully passed the Clinton campaign litmus test for "importance." But, having stood up for Patrick, one wonders: when will Senator Clinton stand up for herself? Because right this very minute, over at John McCain's campaign website, the Arizona Senator is totally jacking her signature line: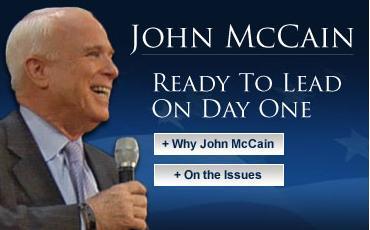 Horrors! Clearly, only one of these candidates can truly be Ready On Day One, and you'd think this would be an issue Clinton could win on because when did McCain become such a lover of timetables? Flip-flop! Anyway, this issue is so absolutely not a silly one at all, and just to prove that, I am officially copyrighting and trademarking the term "superdelegate" as of this very minute. So get a new term, media, or pay what you owe!