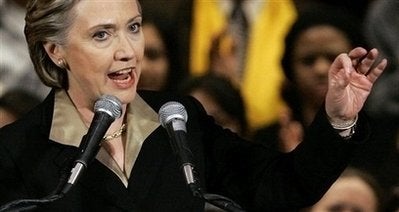 Sen. Hillary Clinton and Barack Obama's presidential campaigns struck highly different chords the day following Obama's 17-point victory in the Wisconsin primary.
In dueling conference calls with reporters, the Obama campaign presented an electoral landscape that could prove all but impossible for Clinton to overcome. The Clinton camp responded with defiance, suggesting that Obama was not qualified for the position of commander-in-chief and stressing that they, in fact, were positioned to eke out a delegate victory.
Obama's campaign manager projected that his boss emerged from Tuesday's elections in Wisconsin and Hawaii with a net gain of 18 pledged delegates, padding his overall lead over Clinton to 159. "In order for them to erode this pledged delegate lead," he added, Clinton would "likely have to win [upcoming Ohio and Texas] by more than 20 points...They're gonna have to win landslides from here on out."
The Clinton camp took exception to Plouffe's math. Taking into account superdelegates as well as those from Michigan and Florida (which currently do not count because the states' parties violated DNC rules), officials with the campaign predicted that sometime around the Puerto Rico primary on June 7, Clinton will have clinched enough support to secure the nomination.
Disagreements between the two camps extended well beyond delegate math. Putting an optimistic take on a larger-than-expected Wisconsin loss, Clinton's chief strategist Mark Penn once again stressed that Obama had yet to win states that would portend a strong general election run.
"It would be hard to imagine a nominee from this party who didn't win New York, California, Massachusetts, Michigan, Florida, Texas, Ohio, and Pennsylvania," said Penn.
Asked whether or not Wisconsin's electorate reflected that of Ohio (as is commonly perceived), Penn retorted: "Ohio is very different from Wisconsin. Wisconsin has a very different electoral history. We always said that it would be extremely challenging for us."
During the call, both Penn and Howard Wolfson, Clinton's press secretary, repeatedly hit Obama for lifting words from a speech of his friend and surrogate Massachusetts's Gov. Deval Patrick. The two Clinton surrogates also went after their campaign rival for not revealing the full extent of his relationship with indicted supporter Tony Rezko. The most direct political attacks, however, came when Penn took Obama to task for being unqualified to serve as commander-in-chief.
"[Sen. Clinton] is the only person in this race who is both ready to be commander-in-chief and would end the Iraq war and start to bring troops home within 60 days, compared to both Sen. Obama and Sen. McCain," he told reporters.
The raised rhetoric reflects an increasingly dire situation for the Clinton campaign. Obama's win in the Wisconsin and Hawaii primaries made it ten in a row for the Illinois Democrat. In addition, in January Obama raised $36 million dollars, far more than Clinton, and his campaign picked up the support of several influential unions.
And indeed, on its conference call with reporters the Clinton campaign acknowledged that, because of the recent slew of losses, their situation had grown politically tenuous.
"I think that [the March 4 states] are critically important," said Wolfson. "We expect to do well there. I'm not going to make any predictions, but there is no question that they are critically, critically important."