Katie Couric's YouTube channel has an interesting exclusive: A "Behind The Scenes" video taking a look at the making of the CBS News Super Tuesday coverage. It's very interesting, because although it's only on YouTube it's worlds away from Couric's handheld cam-impromptu interview with Joe Biden from a few week ago. This is a slickly produced production, depicting the CBS team as a jovial, close-knit bunch all inspired by their love of the job toward the heights of primary coverage. The music starts, and quietly soars with inspiration flourish underneath the running imagery of newsroom hijinks and last-minute planning and the controlled chaos of live TV, with Couric as its perky, upbeat, morale-boosting center, conferring over scripts in reading glasses and reeling off one-liners ("I'm such a nerd" "Is it hot in here, or is it me?" "I look like I'm doing 'A Night At The Roxbury' but it's just my neck hurts" "You ready, Freddie?"). As the clock ticks down to broadcast we see the team coming together — there's Katie kidding with Jeff Greenfield, there's Bob Schieffer drinking from a CBS mug, there's Scott Pelley beaming, there's CBS Evening News medical correspondent Dr. Jon LaPook giving news editor Jerry Cipriano a backrub. Wow, they really do have fun in that newsroom! Then the "On Air" light flashes, the music beats with anticipation, and the fingers count down to go time...and Couric is on, and primary night is off and running. Catch the election fever below:
I started this post off by saying the video was "interesting" and it is — it is basically a cross between a shorter, official promo you'd see on a network and Katie's "This Tart Is Ready To Go!" leak of behind-the-scenes prep footage. The result is a highly-produced, officially-approved peek behind the scenes, carefully crafted to show a warm, congenial newsroom working together to create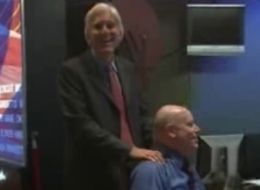 a high-octane night of news. It's certainly effective in creating that impression — the staff all seem hard-working and likable, excited by their jobs, no one more so than Couric. Here's what I am wondering: Why is it only on YouTube, with virtually no push?
So far the video only has 321 views and it's been up for two days. I asked &mdash ;and a CBS rep confirmed — that the video was being shown exclusively on the YouTube channel. Now, they may be waiting for the channel to get traction — we've already mentioned the behind-the-scenes Biden interview, and there's also Katie's appealing behind-the-scenes videos from her formal interviews, like her "Waiting for Clinton" video (wherein she refers to the Clinton team as her "peeps") and her makeup-free video taped en route to interview Michelle Obama. Couric is obviously gung-ho about this YouTube channel (pumping it up in her pre-Clinton interview video as well as in the Biden vid) but so far I'm mystified as to why CBS News is creating content for exclusive broadcast on an unmonetized site and then failing to push it elsewhere. I checked on the "Katie & Co." site for a reference and found non; ditto the "More Videos" link on the CBS News site. We've asked CBS to expand a bit on its web strategy with respect to the videos so check back for answers soon! In the meantime, let the rousing theme music take you back to Super Tuesday all over again (that is the second Super Tuesday, which took us back to the first Super Tuesday all over again).
Update: CBS News has pledged to provide us with the answers to the above questions on Monday.
Update to the Update: Here it is — Katie's YouTube page, explained!