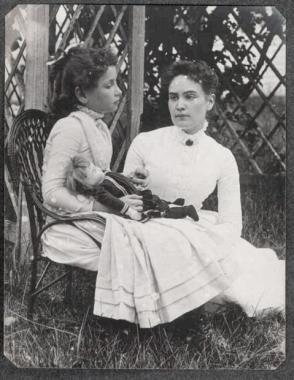 Photographs of Helen Keller, the world-renowned advocate for the deaf and the blind who suffered from both handicaps herself, are not hard to come by. After all, she only died in 1968, at the age of 87. However, an image of the pioneer which has surfaced this week is a little bit different. Above all, there is its age.

The image, released by the New England Historic Genealogical Society, was taken 120 years ago and shows an eight-year-old Keller holding the hand of Anne Sullivan, whose legacy is almost as important. She was the teacher who first taught Keller how to understand and articulate language. More important still for Keller scholars, the black and white photograph shows her holding in another hand a doll. The word "doll" was the first Keller ever spoke - the fruit of her lessons from Ms Sullivan, whose technique included spelling out words on the palm of the little girl's hand.
To read The Independent's coverage on this beautiful photo, click here.
For a quick lesson on Helen Keller and her life, click here.